Billie Eilish Shares Video Responding To Body-Shamers: 'Guts Are Normal, Boobs Sag'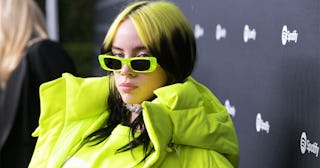 Charley Gallay/Getty
A photo of Billie Eilish wearing a tank top and shorts went viral this week
Billie Eilish isn't here for the bullshit body-shamers. The multi award-winner reposted a video this week after a recent photo of her went viral online, garnering some comments from insecure dirtbags about how she "should" look.
The 18-year-old was photographed by paparazzi wearing a tank top and shorts which meant the claws were out all over the inter-web from people who felt the need to comment on someone else's body — a teenager no less. One tweet said, "In 10 months Billie Eilish has developed a mid-30's wine mom body." Another posted bravely from behind their keyboard in their mother's basement, "Go on a diet you fat bitch."
Eilish, who has achieved more in her career as a teenager than most will in their entire lives, seemingly responded to the haters by reposting a video from influencer Chizi Duru about body image, writing in part, "Instagram has warped a lot of y'all into thinking NORMAL bodies are abnormal. NO." In the video, Duru says, "Y'all gotta start normalizing real bodies," adding, "Not everyone has a wagon behind them. Guts are normal. Boobs sag, especially after breastfeeding. Instagram isn't real."
After Eilish shared the clip, Duru took to her Instagram story to talk more about viral post and why Eilish likely reposted it. "I know why she reposted … because literally not everyone looks the same and social media has truly warped what we believe is a normal body," she said. "Like, please leave (Eilish) alone."
Fans were quick to put anyone on blast who felt like their negative opinion of Eilish's body mattered in the slightest:
This isn't the first time Eilish has spoken out against body-shaming.
At a concert in Miami back in March, she delivered an unforgettable speech, during which she even removing her oversized T-shirt (a staple of her wardrobe): "Some people hate what I wear, some people praise it, some people use it to shame others, some people use it to shame me, but I feel you watching. So while I feel your stares, your disapproval or your sigh of relief, if I lived by them, I'd never be able to move."
She continued: "If I wear what is comfortable, I am not a woman. If I shed the layers, I'm a slut. Though you've never seen my body, you still judge it and judge me for it."
Eilish, who racked up three Billboard Music Awards just this week, exploded into the music scene with 2016's viral SoundCloud "Ocean Eyes." Since, she's won a slew of awards, including winning album of the year at the Grammys for When We All Fall Asleep, Where Do We Go? But for some reason Eilish has also stirred conversations about her body — likely because of the fact that she rarely shows it and also because of society in general and its obsession with women's bodies.
"I never want the world to know everything about me. I mean, that's why I wear big baggy clothes," Eilish explained in a 2019 Calvin Klein commercial.
Here's hoping someday we will get to a place where a woman's weight is the least interesting thing about her.
This article was originally published on