Billie Eilish Claps Back At People Who Unfollowed Her For Posting Sketch Of Boobs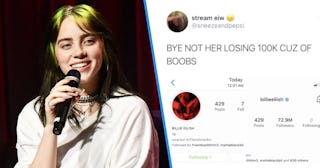 Scott Dudelson/Getty and Billie Eilish/Instagram
Billie Eilish is going viral for posting a drawing of some boobs
Billie Eilish is going viral at the moment and not because she's talented or cool or has the most vibrant green hair ever, she's going viral because she posted a sketch drawing of some boobs and the internet panicked. After Eilish shared some sketches of boobs that she drew and was "really proud of," she lost 100k followers, because apparently people can't handle body parts. Ugh, welcome to being a human on the internet.
During the Instagram game where you take requests to post certain images on IG Stories, someone asked the 19-year-old pop star to post a photo of "a drawing you're really proud of." Eilish then shared some sketch drawings she'd done of bodies and boobs and jokingly captioned it, "i love boobs." Not only is Eilish a talented musical artist, her drawings are pretty great, too. She also shared a photo of her iPhone lock screen, which was a tasteful watercolor of two nude women, which you know, museums are full of. Unfortunately for Eilish — 100k of her so-called "fans" took offense to a teenage girl showing off her knack for figure drawing and unfollowed her on Instagram.
A fan on Twitter noticed that after Eilish shared the image, she lost followers. The fan screengrabbed her profile before Eilish posted the photo, showing 73 million followers, then after Eilish shared the image, when her follower count dropped to 72.9 million.
And if you're wondering if Eilish gave a damn, she didn't. "LMFAOOO," she wrote on Instagram. "Y'all babies SMH."
This isn't the first time that Eilish has had the perfect response to the internet's opinions about her. Last March, after spending most of her career dodging questions about her body and her fashion style, which typically includes baggy pants and tops, Eilish released a video during a concert stop that addressed the constant body shaming and scrutiny she's received over the years.
"You have opinions about my opinions, about my music, about my clothes, about my body," she said. "Some people hate what I wear, some people praise it. Some people use it to shame others, some people use it to shame me," Eilish said in the video. "If what I wear is comfortable, I am not a woman. If I shed the layers, I am a slut. So while I feel your stares, your disapproval or your sighs of relief, if I lived by them, I'd never be able to move."
Pleased to announce that Eilish has now made back the loss and is back at 73 million followers.