Billy Bush Writes Scathing Trump Op-Ed, Admits He Believes All Accusers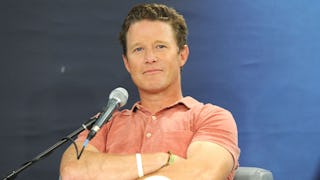 Image via Craig Barritt/Getty Images for SiriusXM
Bush confirms Trump was definitely on the Access Hollywood tape
Billy Bush, the other voice from the infamous leaked Access Hollywood tapes that should've ended Donald Trump's candidacy for president, is trying to set the record straight, a full year after losing his job due to the incident. Because not only did Trump go on to win the election, he's now starting to assert the idea that the tapes were somehow fake.
So Bush decided to speak out — and it's a lot to process.
In an op-ed titled Billy Bush: Yes, Donald Trump, You Said That, Bush first tries to explain why Trump spoke in such a vile manner in front of himself and several other men — but none of them stepped in.
Bush writes, "He said it. 'Grab 'em by the pussy.' Of course he said it. And we laughed along, without a single doubt that this was hypothetical hot air from America's highest-rated bloviator."
He says the Access Hollywood bus included himself, Trump, and seven other men. He claims that they all thought they were listening to "a crass stand up act."
"He was performing. Surely, we thought, none of this was real. We now know better."
While I call bullshit that any of them just assumed the whole thing was Trump trying out some kind of horrible method acting and didn't actually grab pussies without permission, I do find it interesting that the man who didn't stand up for what was right and lost his job as a result is now trying (however poorly) to atone for his actions — while the actual pussy grabber is currently scarfing McDonald's and watching Fox News in the Oval Office.
Bush explains that he recently read on article from October 2016 that reviewed the accounts of several of the, at that point, 20 women that had come forward accusing Trump of groping, harassment, and even assault.
"Some of what Natasha Stoynoff, Rachel Crooks, Jessica Leeds and Jill Harth alleged involved forceful kissing. Ms. Harth said he pushed her up against a wall, with his hands all over her, trying to kiss her," he writes. Bush also mentions Kristin Anderson, who alleges that Trump once "touched her vagina through her underwear" without consent.
Of these women, Bush says, "That makes the 'grab 'em by the pussy' routine real. I believe her."
The literal least he can do.
Bush delves into the reason for his essay. "President Trump is currently indulging in some revisionist history, reportedly telling allies, including at least one United States senator, that the voice on the tape is not his. This has hit a raw nerve in me."
He describes his employment circumstances in 2005, when Trump's grotesque admissions were caught on tape. "I was in my first full year as a co-anchor of the show 'Access Hollywood' on NBC. Mr. Trump, then on 'The Apprentice,' was the network's biggest star."
Bush explains that his "strong rapport" with Trump was crucial in nabbing his fancy new gig as anchor. "My segments with Donald Trump when I was just a correspondent were part of the reason I got promoted."
As such, it sounds like ol' Billy boy didn't feel he was able to reprimand the future president for admitting he routinely forces himself on women, grabbing their private parts.
Because you guys, there was money to be made. Surely, you'll understand now. Eye roll.
"Was I acting out of self-interest? You bet I was. Was I alone? Far from it. With Mr. Trump's outsized viewership back in 2005, everybody from Billy Bush on up to the top brass on the 52nd floor had to stroke the ego of the big cash cow along the way to higher earnings."
In summation, men had to make lots of dollars, so Trump had to be allowed to wax poetic about all the pussies he's grabbed and mouths he's kissed without consent. "None of us were guilty of knowingly enabling our future president. But all of us were guilty of sacrificing a bit of ourselves in the name of success," Bush writes.
Pretty sure the only people in this entire scenario who lost parts of themselves were the women Trump abused. But sure, Billy. Sounds like lots of sacrifice was made on your end when you listened to an admitted sexual assaulter discuss his fame-given right to touch women without their permission and did nothing to stop him. Did we mention there was lots of money involved?
Bush tries to give himself a gold star for supposedly warning us about Trump as it became clear he would be running for office. "The man who once told me — ironically, in another off-camera conversation — after I called him out for inflating his ratings: 'People will just believe you. You just tell them and they believe you,' was, I thought, not a good choice to lead our country," he writes.
Bush says he has hope for the future, that "the current media drama of who did what to whom will give way to a constructive dialogue between mature men and women in the workplace and beyond."
Wait — did he really just call the stories of the incredibly brave women (and men) speaking out about the abuses they've suffered at the hands of powerful men "media drama?" Well. There goes any chance of me giving him an ounce of credit for effort.
Bush ties up his piece with a back pat for himself about how the last year has made him a better father to his daughters (gag) and makes sure to remind us all of the terrible emotions he's felt over the last year.
While it shouldn't be lost on us that a TV host received a reckoning for his failure to put a stop to such gross comments while the man who actually made them is currently occupying the highest office in the land, there will be no accolades for Billy Bush. Not from me. He's making excuses (lame ones) and congratulating himself for all he's learned about how to be A Better Man now that he was caught being a Not So Great Man.
I know that picking apart Billy Bush's feeble try at an apology is seen by some as "asking too much" when Trump is actually still in office and Bush lost his entire career and is at least trying to explain himself, but I don't agree. We need to hold every man accountable — those who commit the crimes as well as those who are complicit. Those who enable and make excuses for men in power. Who shove a woman's dignity and safety far off to the side in the name of climbing the career ladder and making more money.
Sorry, Billy Bush. I hear you, but I'm nowhere close to giving you a pass.
This article was originally published on