Billy Eichner To Lead Rom-Com With All-LGBTQ Starring Roles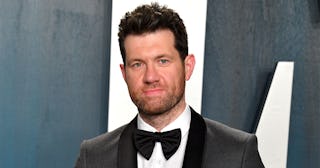 George Pimentel/Getty
The upcoming rom-com will have an all-LGBTQ main cast — even the straight roles
Every now and again you hear a bit of news and you think "I can't believe this didn't happen earlier." Billy on the Street's Billy Eichner's new film, a romantic comedy, that will have an all-LGBTQ main cast is one of those things that comes to mind.
Universal Pictures' upcoming film Bros is one of the few gay-centric romantic comedies produced by a major Hollywood studio and the film will feature a 100% LGBTQ+ cast in the main roles, which includes openly queer actors and actresses playing all of the principal heterosexual characters. This feels like something that should have already happened, but here we are, in a world where queer rom-coms are still such a rarity, so cheers for comedy legend Billy Eichner for finally making this movie and its inclusive casting happen.
"This is the best thing EVER!" Eichner, who has co-written the film, announced on Twitter. "I could not possibly be more excited to tell you the ENTIRE main cast for my rom com BROS will be ALL openly LGBTQ+ actors!!! Yes, even in all the straight roles! This is a first for a major studio film. LET'S MAKE HISTORY!!!"
Take a look at this photo from the set and then mark your calendars for the film's release as Bros will be released by Universal in theaters in 2022.
The film, which is produced in part by Judd Apatow, focuses on two gay men — played by Eichner and Luke Macfarlane — who are "maybe, possibly, probably, stumbling towards love. Maybe. They're both very busy," according to the film's description (via The Hollywood Reporter).
"I could not be more proud or excited about the historic nature of the all openly LGBTQ+ cast of Bros," Eichner said in a statement.
Joining Eichner and Macfarlane in the cast are transgender author and actor TS Madison who last appeared in Zola. Miss Lawrence, a gender non-conforming performer who appeared on Star. Symone, who won season 13 of RuPaul's Drag Race, Guillermo Diaz, from Scandal and Weeds, and Guy Branum, an all-around writer-performer who previously wrote for Eichner's Billy on the Street.
"After queer actors have spent decades watching straight actors capitalize both artistically and professionally by playing LGBTQ+ characters, it is a long overdue dream come true to be able to assemble this remarkable, hilarious cast," Eichner concluded in his statement. "And while Bros may be the first of its kind in several ways, my real hope is that it is only the first of many opportunities for openly LGBTQ+ ensembles to shine and show the world all we are capable of as actors, beyond just being the wacky sidekick, token queer or a straight movie star's 'gay best friend.' And beyond all of that, this cast is fucking hysterical and you're going to love them."