Billy Porter To Play Fairy Godmother In Live-Action 'Cinderella' Movie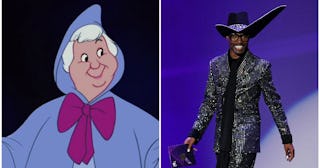 Disney/Kevin Winter/Getty Images
The black, gay, and fabulously inspiring Billy Porter as the Fairy Godmother? Yes, please.
Billy Porter is having his moment, and we couldn't be more thrilled about it. The Broadway legend, who went seriously mainstream with his Emmy award-winning role as Pray Tell on the critically acclaimed FX show Pose, made us swoon at 2019 Emmy's with his tear-jerking speech. Then, he had us peeing in our pants with his Pose parody on this week's Saturday Night Live. And pretty soon, he is going to "Bibbidi-Bobbidi-Boo" us when the highly anticipated live-action version of Cinderella hits the big screen.
During a panel at the New Yorker Festival over the weekend at the 20th New Yorker Festival, the 50-year-old actor confirmed that he had been cast as the Fairy Godmother in the Sony version of the film, joining the ranks of Camila Cabello, playing Cinderella, while (fingers crossed) Idina Menzel, who your kids know as Frozen's Queen Elsa, is in talks to play Evelyn, the evil stepmother.
James Corden came up with the idea to do a live-action, re-imagined Cinderella, in the first place, which promises to be drastically different than the Disney classic. While details are still scarce, we know that the story takes place around an orphaned girl becoming a princess. According to The Hollywood Reporter, Cabello is going to be involved with the film's music.
This is without any doubt a perfect role for Porter, who declared that the media has "the power to create empathy" in regards to representation.
"I feel like physical representation are the only things that create change. It's when we are available, that we have the power to create empathy. Through the way we tell stories," he said during a press room speech after the 2019 Emmy's. "I think being black, I know that being black and gay and out, and being in this position."
Porter's journey to fame is even more inspiring. During the panel, he revealed that he struggled to fit in the "hugely, violently homophobic" industry when he initially tried to break in as a pop star. "It just was never about the music," Porter said. "It was about trying to fix myself so other people would feel comfortable around me."
He struggled for years, and things got so bad that he filed for bankruptcy at one point and had no apartment or health insurance. When he was cast in the 2011 revival of Angels in America and then Lola in Kinky Boots, his celebrity transformed and the world finally realized how incredibly talented, awe-inspiring, and overall kick-ass he truly is.
"The calling in my life is where I am now," he said about his role on Pose. "We must speak life into ourselves, even when everyone around us is doing the opposite."