Billy Porter Calls Out Harry Styles' Vogue Cover: 'All He Has To Do Is Be White And Straight'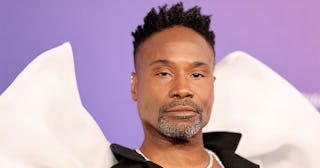 Amy Sussman/Getty
Porter expressed frustration at the opportunities afforded him versus a straight, white man
Listen up, children. Billy Porter has something to say, and it requires your full attention. Speaking with The Sunday Times, Porter spoke straight facts when he talked about the differences in career options afforded to him as a Black, gay man and those given to pop star Harry Styles. "I feel like the fashion industry has accepted me because they have to," Porter admitted. "I created the conversation (about non-binary fashion) and yet Vogue still put Harry Styles, a straight white man, in a dress on their cover for the first time."
Porter is referring to Harry Styles, who became the first man to cover Vogue alone almost one year ago — and did so wearing a full-length dress (which caused its own stir when the cover debuted). Since the Vogue cover, Styles has been credited with ushering in a new, more creative era of men's style. Billy Porter, who has been gaining a red carpet reputation for his gender-fluid fashion choices for years, argues Styles is the wrong person to front the movement.
Porter spoke to the media outlet about his struggle to land acting jobs after a stint on Broadway in 1991. By 2007, due to a lack of opportunities, he was forced to declare bankruptcy. It wasn't until his Emmy award-winning stint as MC Pray Tell in the smash Netflix series Pose, that his career took off.
Since Pose, Porter has become a red carpet darling, wearing a totally gorg black and white dress to the premiere of Amazon Prime's Cinderella.
Porter wore a stunning gold suit to the 2021 MTV Video Music Awards.
And unfortunately, when it comes to the culture, the credit is lacking, Porter told the paper, saying he "changed the whole game" when it came to men wearing skirts and dresses. Pop culture has a sad history of taking note of innovations made by Black professionals only when their white counterparts begin implementing the styles themselves. No pun intended.
"I was the first one doing it and now everybody is doing it," he said. "I'm not dragging Harry Styles, but… He doesn't care, he's just doing it because it's the thing to do. This is politics for me. This is my life."
"I had to fight my entire life to get to the place where I could wear a dress to the Oscars," Porter continued. "All (Styles) has to do is be white and straight."