Bindi Irwin Shares Her First (Extremely Adorable) Bump Photo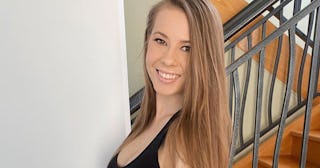 BindiI Irwin/Instagram
Bindi Irwin is well on her way to becoming our favorite celeb mom
While 2020 has been a tough, stressful year for pretty much everyone, Bindi Irwin has actually celebrated some amazing milestones: She married her longtime boyfriend, Chandler Powell, in an intimate family ceremony just as the pandemic was taking off, and only a few months later, the couple announced that they're expecting their first baby.
Ever since making the announcement while still in her first trimester, Bindi has been very open about wanting her fans to be a part of her journey into becoming a mom. Because of that, she's been very open online, sharing updates about her pregnancy just regularly enough to feed our desire to stay in the know about what's going on with the late Steve Irwin's first grandbaby. That includes the first photo Bindi posted with a visible baby bump, which just went up on her Instagram over the weekend.
https://www.instagram.com/p/CGLTSNoBqA7/
Posing at home in a black tank top that shows off her tiny, yet perfectly adorable bump, Bindi stuck to the same trend she's been using every time she releases a photo about her pregnancy: She told us how her growing little girl's size compares to an animal. This time, she wrote in the caption, her baby is the size of a mountain pygmy-possum. Don't know what that is, but we do know there's no way it's as cute as this baby is going to be.
In her caption, Bindi also revealed that her baby girl appears to be strong and healthy so far.
"Baby girl is doing great," she wrote. "Every time we get an ultrasound she's incredibly energetic and always moving around."
And of course, sweet dad Chandler Powell was quick to jump into the comments to share some love for both his wife and their baby girl.
Bindi and Chandler tied the knot earlier this year, when they had a small wedding with only close family members, hours before Australia's pandemic lockdown would have prevented any ceremony.
In August, they made the happy announcement that they were expecting their first baby, doing a zoo-themed reveal with a tiny Australia Zoo uniform, and announcing that "Baby Wildlife Warrior" was coming in 2021.
Since the announcement, they've continued to keep their fans in the know about their baby's growth, and even revealed that they were expecting a baby girl with yet another wildlife-themed photo shoot, this time with a giant tortoise who lives at the Australia Zoo.
One thing is already for sure: Bindi and Chandler are going to be wonderful parents, and the world can't wait to support them through this new journey, every step of the way.