Bindi Irwin Writes Sweet Note To Her Late Father About Her Wedding Plans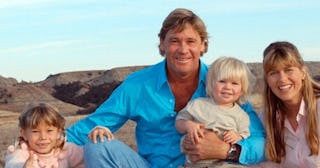 Instagram/Bindi Irwin
She also shares who will be walking her down the aisle on her big day
If you ever watched Crocodile Hunter, you likely fell in love with Steve Irwin, his wife, Terri, and eventually the couple's two kids, Bindi and Robert, who made frequent appearances on his shows. Since his death, we've been lucky to be able to watch his kids grow up before our eyes. With Bindi's recent engagement, we've also been able to witness, even after all these years, just how much they still miss him.
Bindi, 21, recently announced her engagement to longtime boyfriend and professional wakeboarder, Chander Powell, and as with any big life moment, her thoughts were with her late father. "Dad, You would be so incredibly proud of Robert. He has been such an amazing support during this beautiful new life chapter," she shared with fans on Instagram. "I know you'd be beaming with pride when the time comes that he walks me down the aisle."
Steve Irwin died in September 2006 at just 44 years of age after being pierced in the heart by the barb of a stingray while he was filming for an upcoming show. Bindi was just eight at the time, and Robert was not even three.
Robert actually captured Bindi's engagement at the Australia Zoo and was thrilled to be able to share the moment with the pair. "I've photographed some pretty cool stuff in my time… nothing comes close to this. I was so happy and thankful that @chandlerpowell asked me to secretively document the moment that @bindisueirwin said yes! One of the most special times ever," he shared on Instagram.
"I am beyond happy for you two. You are true soulmates and have always been so completely perfect for each other," Robert wrote of his sister's engagement. "Love you both and congratulations."
The pair have always seemed tight, often sharing adorable pictures of them growing up. They've both followed in their dad's footsteps ever since, working at his Queensland Zoo and Conservation Center. They've also both had shows on Nickelodeon and Animal Planet, teaching a new generation about the importance of conservation and creating excitement around all kinds of animals.
Recently, Bindi shared a sweet video tribute to her dad of him talking about fatherhood and Robert shared an incredible pic of him and his dad hard at work. "Dad and me feeding Murray… same place, same croc – two photos 15 years apart," Irwin wrote on Twitter next to a spitting image of father and son in the exact same pose.
It's so sweet she will have her little brother with her on her wedding day to walk her down the aisle, but as you can imagine, her dad is never far from her heart. "I wish you could be here for these moments," she wrote, "but I know that your spirit lives on in us."