Bindi Irwin Reveals She And Her Husband Are Expecting A Girl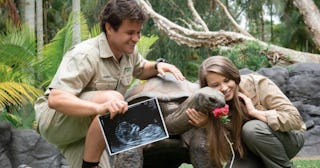 Instagram/Bindi Irwin
Bindi Irwin shares that she and husband Chandler Powell are expecting a baby girl
This year has held precious few bright spots and the daily news cycle is mostly one dumpster fire after another, but one joyous exception is Bindi Irwin. A few months ago, the daughter of legendary conservationist Steve Irwin, who died in 2005, shared that she was expecting her first child with husband Chandler Powell. Now, the couple has announced that their new little one is a girl.
"Baby girl, you are our world. ❤️ Our beautiful daughter is now about the same size as a hatchling Aldabra tortoise and is as healthy as can be. We can't wait for her arrival next year," reads the caption, alongside a sweet photo of the couple with an Aldabra tortoise.
Powell shared the photo on his own Instagram with a message that will make your heart grow 10 sizes. "Our little girl and my beautiful wife are my entire world. I'm so excited to meet our daughter when she's born next year and to see the incredible person she will grow up to be," he writes. You know Steve would be beaming ear to ear and if you need me I'll be over here using an entire box of tissues.
Irwin shared the happy news of her pregnancy in early August along with a photo just as adorable as the sex reveal. "Baby Wildlife Warrior due 2021.
Chandler and I are proud to announce that we're expecting! It's an honour to share this special moment in our lives with you," she wrote.
Fans who have watched Bindi and her younger brother Robert grow up after losing their father at very young ages are undoubtedly delighted at Bindi's big family news. She and Powell married earlier this year in a small ceremony due to the COVID-19 pandemic. Knowing how proud Steve would've been of his daughter, son, and wife as they've continued to honor his legacy and further his cause of animal conservation and education is enough to make your heart melt.
Of course, her very supportive and loving family was just as excited to hear the news.
These updates only have us more excited to see this sweet little one when she arrives. She will certainly enter a loving family who can't wait to meet her along with tons of her grandfather's devoted fans.