Bindi Irwin Shares Emotional Video Of Her Dad And Brings Internet To Tears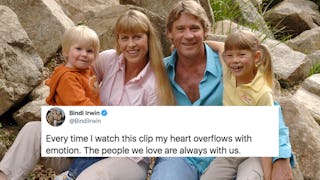 Image via handout/Getty Images
Bindi Irwin posted a beautiful clip of her dad discussing fatherhood
In case you needed a reminder that the late Steve Irwin was literally the most wonderful human being out there, here's some further proof. His 20-year-old daughter Bindi took to Twitter to share a deeply moving throwback clip of her dad talking about fatherhood. It will make your heart grow several sizes, fair warning.
Bindi posted the video, alongside a sweet, loving caption. "Every time I watch this clip my heart overflows with emotion," she wrote. "The people we love are always with us. Love lives on no matter what & I think that is the most beautiful thing about our existence. Thank you, Dad, this moment captured on camera made my whole life."
In the video, Steve opened up about the many surprises that fatherhood brought him. "I never wanted to be a dad," he said. "I couldn't really give a rip. And now I am the proudest father, I gotta tell ya." The segment featured footage of him coaching his wife through birth, little Bindi wrapped up in a blanket, and the whole family together in the outdoors.
"Who would have thought someone as ugly as me could bring into the world something so beautiful, such a treasure?" the late conservationist and zookeeper said. He added that he wanted to make sure that his daughter had a regular upbringing, on top of the extraordinary adventures he had in store for her.
"One of the greatest battles that I've got is trying to keep Bindi normal," he said. "Like, spending as much time as she wants with other kids, but also by the same token taking her everywhere. You know, take her out of school if I'm goin' jumpin' on crocs, then by crikey I want her jumpin' on crocs with me."
The clip had people feeling many, many feelings. Mostly a whole lot of love and tears and more love.
https://twitter.com/jetpack/status/1111226031476748288
https://twitter.com/jetpack/status/1111223667520872449
Irwin passed away in 2006 after being stung by a sting ray during a diving expedition off the coast of Port Douglas in Queensland, Australia. He left behind both Bindi and her younger brother Robert, now 15.
Bindi has continued her father's legacy and has been a fierce wildlife conservationist in her own right. Her Instagram is an oasis of animals and the outdoors and tributes to her parents. "The last photo ever taken of us as a family. The day before I had to wave goodbye to my hero, without knowing it would be the last time. But Dad, I know you walk beside me always and your strength lives within me. I love you," she wrote on their last family photo before her dad passed.
"I just came across this photo and had to share it," she captioned a shot of herself with her mom, her dad, and a snake. "My heart is so happy. From the moment I was born my wonderful mum and dad started introducing me to wildlife. Our conservation work has been my life since the very beginning."
On her 20th birthday, she posted a family portrait, featuring her mom, her dad, a big dog, and her stuffed koala bear. "I was born to the kindest, most giving, dedicated and loving Mum and Dad," Bindi wrote. "20 years ago I was blessed with the most beautiful existence alongside the people I love more than anything. I'm so glad my parents decided to have me and then bless our lives with my amazing brother."
Well, off to watch videos of Steve Irwin on YouTube for hours and feel all of those warm, happy, wildlife feelings.