How This Woman Changed Social Media Policies On Birth Censorship
by Kristen Mae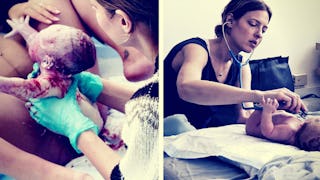 Mother: Lauren Archer / Photographer: Brian Archer
After years of censoring photos of childbirth, Facebook and Instagram have made huge changes thanks to one woman's determination and perseverance.
Empowered Birth Project is an Instagram account created in May of 2014 by Katie Vigos. The page celebrates women giving birth by posting stunning raw photos of mamas and babies in various stages of the birth experience. Vigos created the account while pregnant with her third son because she wanted to document her son's birth in all its messy, miraculous glory, and share it with other women.
At first, Vigos tells Scary Mommy, she posted more conservative content and "was rarely censored." Instagram even offered her account protection from censoring after a photo of her breastfeeding her son was displayed in an art gallery in 2015.
But even with Empowered Birth Project's popularity among birth activists and mothers alike, and despite that supposed extra layer of censorship protection, Vigos found herself regularly butting heads with Instagram's strict but rather vague anti-nudity policy. The current policy bans "genitals" and "fully nude buttocks," but makes an exception for breastfeeding images.
The problem for Vigos and others who post birth content is that the policy doesn't even mention childbirth. So, even though account holders can appeal a removed photo as Vigos often did, Facebook and Instagram's reviewers have been left to rely on the verbiage banning genitals, which put many gorgeous birth photos on the chopping block.
"Sometimes things would get taken down for much less," Vigos tells Scary Mommy, "like a tiny sliver of an areola or a tuft of pubic hair."
Vigos knew that even as she experienced frustrating amounts of censorship, other accounts were experiencing far worse. Last December, a woman named Lauren Archer posted a "half-in-half-out" photo to her small Instagram account. ("Half-in-half-out" means baby's head is out of the vagina, but the body is still in the birth canal.) Archer had edited the image to blur out blood and her own genitalia, but Instagram still removed the image.
When Vigos learned that Archer's incredible photo had been taken down, she took up the cause, uploading the deleted photos to Empowered Birth Project despite knowing they wouldn't comply with Instagram's nudity policy. She noted in the image caption that she was tired of "dancing around the fine print of Instagram's censorship policies. I'm done. I don't care anymore."
After 30,000 likes and 3,000 supportive comments, Instagram removed the image as expected.
But that was when Vigos decided she was basically done taking Instagram's shit, and where she becomes our hero.
Channeling her community's frustration over the deletion of the stunning image from Archer, Vigos launched a Change.org petition which she titled "Allow uncensored birth images on Instagram." 3,000 people signed the petition the very first day, and the petition has since collected over 23,000 signatures.
A month later, at the beginning of January 2018, Vigos received a call from Facebook (which owns Instagram). Kim Malfacini, Facebook's Associate Manager of Public Policy, called Vigas to inform her that both Facebook and Instagram would be updating their policies to permit nudity within the context of childbirth.
Vigos was overcome with emotion. "The birth community in general has faced so much criticism over the years for bringing to light what society believes should remain hidden. In that moment," she tells Scary Mommy, "knowing we had been freed from censorship—I thought my heart might fly out of my chest."
Vigos believes this win goes "far beyond which pictures and videos are allowed to be shown on Facebook and Instagram. This is much bigger than that."
She's right. For many expecting families, social media is the most accessible place to learn about what to really expect when it comes to childbirth—and to discover what an incredible, miraculous experience it can be. During her campaign to change Facebook and Instagram's policies, Vigos says she was "dumbfounded by how many people—many of them women who had already given birth before—commented that they had never actually seen what birth looks like."
Not only is this policy change essential for education, but it will also enable a forward push when it comes to discussions about maternal care for women in the US. "The state of maternal care in the US is not remotely optimal," Vigos points out. "Thrusting this conversation into the spotlight, inclusive of all birthing people, birthing options, pregnancy and postpartum care etc., is a great place for us to start in order to stimulate cultural and societal change to better care for our birthing families."
In her most recent discussions with Facebook and Instagram, Vigos was told that employees from both companies have been notified of the policy changes regarding birth content. The trick now will be getting automated filtering technology caught up so it can "distinguish nudity in birth versus nudity in other contexts."
With this successful petition, Vigos basically single-handedly transformed the social media landscape in terms of destigmatizing and normalizing childbirth. It is a critical step in the movement for a larger cultural shift toward acknowledging and appreciating the beauty and power of birth.