Birth Photographer Captures The Moments Words Could Never Do Justice
by Maria Guido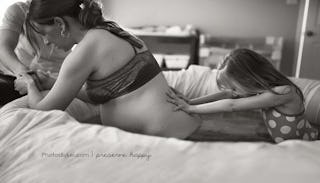 How do you describe those first moments after a new child comes into the world? Are there even words? No matter what kind of birth experience we've had, that moment when you first lay eyes on your child is surreal. Words actually can't do it justice.
But images can.
Leilani Rogers is a photographer who's been documenting births for the last five years, but her first exposure to it was almost 12 years ago when a viral slideshow a couple had made of their home birth started making it's way into a few of the birth groups she was in online. It gave her the inspiration to document the birth of her third child. "It wasn't until a few years later that I became more serious about photography in general, and even longer before I would professionally document my first birth, the birth of my niece," Rogers explains. "That first experience was a life changer. I knew I had found my calling."
Yes, she did. There is so much emotion in these photos, it's clear she's an expert at making people forget that she's there. And that is not easy to do in such a raw moment.
"Some of these photos just remind you that our bodies are miraculous and that that birth is transcendent experience. Other photos delve into subjects we aren't entirely comfortable discussing yet: home births, umbilical cords, amniotic sacs," Rogers says of her work. "Birth is considered by many to be a private matter. And yet, it is this amazing thing that we should be teaching our children about and celebrating. So I think people view these photos as equal parts enlightening and fascinating."
Bonus Content — SCARY MOMMY presents, "The Mom Club: 10 Stories to Make You Feel Like a Better Parent." Download it free—before this offer runs out!
Agreed. Here are some amazing images and what the photographer herself has to say about them.
Water birth
"I often lose my breath as I document mothers reaching for their babies and bringing them to their chests. And each time I come back to those iamges, I lose my breath all over again. The joy, relief and exhaustion is just so palpable."
Support from daughter
"This was a beautiful birth filled with questions and love and wonder… My client's 7 year old daughter is providing pressure to her mother's lower back. She so calmly and sweetly came into the room where her mother was birthing and genuinely wanted to help. Later her mother told me how comforting it was to have her there, and how much she admired the nurturing nature her daughter possessed."
First latch
"Breastfeeding support has a special place in my heart. That is why I founded The Public Breastfeeding Awareness Project. Breastfeeding success starts here though. At birth. Some moms just don't get the patient instruction they need in order to be successful at breastfeeding. Plus I just love the juxtaposition of this experienced midwife's hands against this young mother and newborn babe's skin."
Hands and knees
"I love images that show that a woman can birth in many different positions. They should not be limited to their backs. That defies gravity, does it not? Case in point, many times a change in position will facilitate a stalled labor."
Peace
"Another beautiful hospital moment. It wasn't until after I got home and began editing images that I noticed this little one's signal that she felt at peace."
Gorgeous.
Don't forget! "The Mom Club: 10 Stories to Make You Feel Like a Better Parent." Get it here!
This article was originally published on