30+ Birthday Greetings For Your Wife To Let Her Know She's Loved
by Team Scary Mommy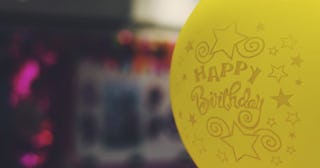 Photo by Aubrey Fernandez on Unsplash
Even though you really should be letting your wife know how much you love and appreciate her all year, her birthday is the perfect time to remind her exactly how awesome you think she is. But just because you feel that way, it doesn't mean you necessarily have the right words for the job. If that's the case, we've got you covered with these 31 curated birthday greetings to make your wife feel extra special.
And when it comes to messages, we've got them all. If you're going for a fun, romantic, or sweetest-husband-ever greeting, we have that and more. A birthday is a big deal, especially if you've already shared so many. So, switch it up by adding some pizzazz to your birthday card and leave a message she won't forget.
Happy Birthday – It's your day for dreams to come true. May your life be filled with love and happiness.
You are the Nutella to my toast and the ice cream to my apple pie. Happy Birthday to my beautiful wife.
You are kind, amazing, fantastic, beautiful and sexy. I'm so glad that I married you.
You give my life a purpose that helps me overcome all the bad moments and all the anxiety. I am so lucky to have a wife like you. Happy birthday, dear!
May every wish of yours come true. Happy birthday, sweetie. I love you.
Once in a lifetime someone gets to meet someone, but I have been fortunate enough to marry this special someone! I hope you have a beautiful birthday. Happy birthday, dear.
I am lucky that I get to see you smile every single day, and I am even luckier to call you mine. I hope you have the best birthday ever.
To my beautiful wife, may the years forever be in your favor and the days always kind.
Having you as my wife does a great job in warming the cockles of my heart. Happy birthday, darling.
You are not just my beloved wife but my greatest friend ever. Happy birthday, my love.
You are so lucky to have me as your husband…but not as lucky as I am to have you as my beautiful, thoughtful, intelligent wife! Happy Birthday, my love!
Roses are red. Violets are blue. I think my wife is awesome and pretty great in bed too! Happy Birthday, beautiful!
There are only 2 absolutes in this world: Chuck Norris is the biggest badass in Hollywood and my love for you is infinite.
I felt like I opened a Wonka bar and found my golden ticket when I met you. Happy Birthday to my beautiful wife. I look forward to the many wonderful, scrumdiddlyumptious years ahead.
You are another year older, wiser, and even more beautiful… I love everything about you and hope you have the best year yet. I love being able to call you my wife!!
Happy Birthday to the wife who has the best husband in the world! You are one marvelous woman!
Happy birthday, my darling wife. Today is a testament that you are an expert at aging.
I have experienced happiness countless times in my life but the happiness your love brings me is heavenly. Happy birthday.
Some people get happiness from power. Others get it from fortune. And for some others, their happiness lies in fortune, fame and power. For me, I derive absolute bliss by just looking into your eyes. Happy birthday, my angel.
Happy birthday to my phenomenal wife whose love brings me everlasting happiness. Sweetheart, I cherish and worship every moment I get to spend with you.
I will forever glorify your love, babe, for it bring me happiness without end. Happy birthday, dear.
Growing old with you is one of my most favorite things to do.
My love for you, darling wife, is like the digits of PI: infinite and non-repeating.
You are truly my source of happiness, strength and inspiration.
After years of marriage and memories oh so sweet, when I see you my heart still skips a beat.
Even though you have turned a year older, you are still as beautiful as the day I married you.
Don't pinch me! Being with you is like a dream that I never want to wake up from.
Time has made a beautiful woman of my special girl. May you find joy in this day as you have brought so much joy to my life. Happy birthday with much love.
My sweet, my love for you just got a new inspiration and meaning, on this special occasion of your birthday.
To my darling wife; a good loving husband will always remember your birthday, not your age.
I feel so lucky and humbled for having someone like you as my wife. Thank you for being such a blessing and company to my life.
This article was originally published on