50 Super Cute Ideas To Write On Your Child's Birthday Party Invitations
by Team Scary Mommy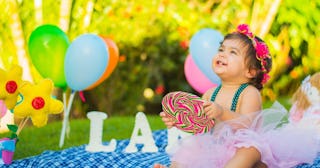 Douglas J S Moreira/ Unsplash
If you like to make your own birthday party invitations, coming up with a theme and color scheme is one thing, but finding the right wording for a kid's invite can be tricky. You want to strike a balance between being cute, funny, and informative, but that's easier said than done. And the last thing you want to do is sound lame or cliche. So if you're scratching your head waiting for the muse to strike, we've gone ahead and rounded up 50 birthday invitation wordings for kids' birthdays from ages one through 10.
A little cake, a lot of fun, and a sweet little host who's turning 1!
It's been a very exciting year full of joy, love and fun. We hope you'll celebrate with us as our little girl turns one! Hip, hip hooray! Baby Ethan turns one today! Some said it could not be done, but little Jack is turning 1! First teeth, first curls, he's crawling around, Spencer is growing by leaps and bounds. There is one more first to celebrate, with balloons, a candle and a cake!
Little Adam is turning two…and he wants to celebrate with you!
We hardly believe it's true — our little girl is turning two! Cute as a button and oh so dear, Christy's 2nd birthday is finally here! Two times the giggles, double the fun. Twice as exciting as just being one! Time flies by so very fast, already another year has passed. We can't believe it, but it's true — our little cutie pie is turning two!
What a party it's going to be — Little Josh is turning three!
Ladybug, Ladybug what do you see? I see Abigail and she is turning three! Whee! Jane Doe is turning three! Join us on the playground to celebrate! Addy is turning three, so we're celebrating with a fun party! I'm turning 3! So please come to my party, to make it filled with fun and glee!
Maddy is turning four. Come join us for fun galore! There will be pizza, a clown, games & more!
There will be cake, presents and so much more. Can you believe it? Jimmy is turning 4! Abby is turning four and that takes the cake. Don't duck out on her party, for goodness sake! Tyler is turning four! Wait til you see what we've got in store! Four little candles placed on the cake — Jordan's got a birthday wish to make!
Come on everyone, look alive! Little Miss Anne is turning five!
Soon he'll be grown, and learning how to drive, But for now let's celebrate Justin's turning five! Wishes do come true! John Doe is celebrating his fifth birthday with a party and cake, too! Let's dance, jump and jive because Jessica's turning five! My big day is coming, my big day is near. Soon I'll be finishing my fifth year. Mom and Dad are having a party, they say it's for me. To make it even better, your smiling face we hope to see!
Zac's turning six and that takes the cake. So come and help us celebrate for goodness sake!
Six is a super age so help celebrate as Edie takes center stage! A day full of hotdogs. A day full of fun. Join us to celebrate and hit a home run! It's Sammy's 6th Birthday! As sweet as Snickers, Mars Bars and Twix — our little girl is turning six! Toot the Horn! Bang the drum! It's Jeff's sixth birthday party and we want you to come!
Seventh Birthday
Howdy Partner! Get your boots on and yourself in gear. We're having a shindig to celebrate Maddie's 7th year.
Our little girl is sent from heaven, and pretty soon she'll be turning seven! Please join us to celebrate Isabel's seventh birthday — it'll be great! A day full of magic, good food and fun. It's Sebastian's seventh birthday — we hope you can come! With so much candy you'll think you've gone to heaven, be sure to come to see Iggy turn seven! Come celebrate with pizza and candy. Shelly's seventh birthday party will be dandy!
Eighth Birthday
Stephanie is turning eight! Let's get together and celebrate!
Know what I think is really great? Bryan is going to turn eight! Mark your calendars, don't be late! Our little Charlotte is turning eight! Get in the house and shut the gate! Madeline is turning eight! Please save the date! We're having a party because Victoria is turning eight!
Ninth Birthday
I'm turning 9, hurray! Let's celebrate my ninth birthday!
Come to dance and play and dine. We're celebrating Ellen turning nine! I'm getting older and doing just fine. In fact, soon I'll be turning nine! I'm having a party and turning nine! Come celebrate my day to shine! Come to a party and have a great time — Eleanor is turning nine!
Tenth Birthday
Shirley is in the double digits at last, the single years have quickly passed!
Come on over, Cooper is turning ten! Don't make us have to ask you again! Join us for a calming spa day with Zen, to celebrate Ava turning ten. Food and friends and good times again. Jackie is finally turning ten. Cole is too cool for a rhyming birthday party invitation. He's turning ten, so come over and celebrate with us.
This article was originally published on