Why My Oldest's Birthday Will Always Be More Important Than My Youngest's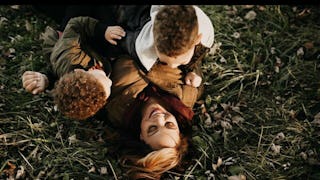 Tiara Fowler
Six years. It's been six years since birthing my first child. I pulled out my phone the day before my son's birthday with intent to write the generic: "I can't believe he will be six tomorrow. It feels like it was just yesterday that we brought him home. Man, time flies."
We've all seen this post, right?
But, as I sat there trying to be a little less basic and put my emotions into words, I couldn't. I REALLY CANNOT BELIEVE MY CHILD WILL BE SIX TOMORROW. I VIVIDLY REMEMBER BRINGING HIM HOME FROM THE HOSPITAL LIKE IT WAS YESTERDAY. IT'S GONE WAY TOO FAST. HOLY SHIT, I'VE BEEN A MOM FOR SIX YEARS. AM I DOING THIS RIGHT?
Every year around the middle of July, I struggle. Honestly, it's a combination of joy, anxiousness, and maybe a little bit of sadness. Now, my second child's birthday is in November and the emotions are no where near as intense.
Why? I don't love him any less. If anything my second child is the "easy child." So, why doesn't his birthday trigger the same response from me? Every year I've pondered this, but just dismissed the thought and blamed my anxiety on random things…periods, divorce, stress, etc. But here I am, year six fighting the same battle. WHAT THE HELL IS WRONG WITH ME?
Is my first child's birthday really more important than my second child's?
Yes. Yes it is.
I will never forget the moment that my doctor told me my due date.
"Looks like July 27th is baby day!"
To the doctor it was "baby day." For me it was the date that I was going to be a mommy to a precious baby girl (because I just knew from an early age that I would only ever have girls…let us all just take a moment and laugh…L-O-L). I was excited but so naive. I was 23 and we had only been married for 9 days before we found out I was pregnant. I moved in with my new husband and found out I was pregnant on the same day. How's that for taking things slow?
At that point, we had no time to learn how to live together, we had a deadline by which we needed to be comfortable with one another: July 27th. There was no time to contemplate what I wanted to do with my life, I had a deadline by which I needed to take a decent paying job and stick with it: July 27th. No time for arguing, working on issues, hopes and dreams, etc. I HAD TO BE A RESPONSIBLE AND THRIVING ADULT BY JULY 27th! End of discussion.
On July 20th at 4:02 p.m. after eight easy hours of labor and twenty minutes of pushing, I gave birth to an 8lb, 4oz baby BOY. Although I was overjoyed I was also overwhelmed with the mass amount of responsibility being placed in my arms…literally. I remember sitting with my son two days after he was born and being amazed by the fact that the hospital was going to let me just take this baby. Like, no IQ test? No background check? We just walk out of the hospital and that's that. What?!
I realized during his first year of life, that I had no effing clue what I was doing. Not only did I not know what I was doing, I did't know who I was. Life is a learn as you go thing, but when you're given a due date, you're no longer allowed to learn leisurely. All of a sudden I was forced to figure it out.
All of the things that I had put off and buried until July 27th were creeping to the surface. The first year was rough. The naiveness had worn off and I felt like a naked baby who had been thrown into the woods in the middle of winter. I didn't know who I was. Where I needed to go. What I was supposed to be doing with my life. How was I supposed to mold a person when I wasn't even close to being whomever I was supposed to be? Luckily, the first year is just about survival and somehow we survived.
By the time his first birthday rolled around, I was exhausted, and pregnant, again. But I will say I had grown. I was no longer naive, but I still didn't have all of the answers I needed. I loved my son and was excited to meet my newest baby, but I couldn't help but to feel as though I had missed my "due date." The date by which I was supposed to have my shit together. That's a feeling that ate at me for probably the first three years of his life, until it finally clicked…progress was a part of the process.
Every year when July 20th approaches, I re-evaluate and self-evaluate. It's kind of like giving myself an annual review for the most important job I'll ever have.
July 20th is the anniversary of the day that my responsibilities and priorities became bigger than car notes and bills.
July 20th is the anniversary of the day that I began to live for someone other than myself.
July 20th is the anniversary of the day that forced me to find my purpose. It is so easy to get caught up in the daily grind of life, but when you find yourself and know yourself, you understand that you were put on this earth for a reason, and I owed it to my children to figure it out.
After having my son, I couldn't look in his big brown eyes every morning and feel at peace about going to work and spending 40 hours a week away from him…especially doing things that weren't pushing me to grow. I knew I had to start making my life count.
So you see, my oldest child's birthday will always be the most important because it is the anniversary of the day that I started a journey that I'll travel for the rest of my life. Six years ago, I held a precious baby and I promised to guide him. But to guide him I needed to find myself. I can confidently say that after years of soul-searching, self-discovery, and undoing everything that I thought I was "supposed" to be doing, I'm finally found. I still wander but I am no longer lost.
It is my son's birthday, but it is the anniversary of the day that I received my most cherished gift …the opportunity to be a nurturer, a leader, a mother.
I gave him life and he gave mine meaning.
This article was originally published on