Shocking Video Shows 9-Year-Old Girl Tossed Into Air By Bison At Yellowstone Park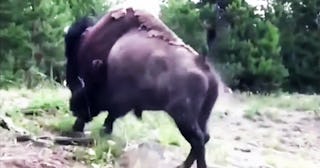 Today/Youtube
A wild video shows a nine-year-old girl tossed into the air by a charging bison at Yellowstone National Park
A shocking video caught by a bystander at Yellowstone National Park that shows a 9-year-old girl being tossed into the air by a charging bison has gone viral. The girl's injuries were not disclosed, but she was treated and released and thankfully, seems to have escaped mostly unscathed.
The July 22 video shows a bull bison grazing in the grass near Observation Point Trail in the Old Faithful Geyser area of Yellowstone Park when he suddenly charges the unidentified girl, sending her flying. The video is wild and pretty jarring to see, so proceed with caution.
Several other people are seen running away from the bison as he charges the child and the National Park Service said in a statement that there were actually 50 people within five to 10 feet of the bison for at least 20 minutes before he eventually charged at the young girl.
Hailey Dayton, 18, who happened to be standing nearby and who filmed the video told NBC News she thought the bison was agitated by all the human presence, though the park service did not specify what exactly caused the bison to charge.
"My brother and I were looking at the hot springs, and we saw a bunch of people running down the path to the bridge. We saw through the trees some people petting the bison, super close," Dayton told NBC News. "Because it was agitated by all the people and noise, it just kind of attacked. After that, everyone was screaming. There were a bunch of kids crying."
The Park Service stated that the injured girl was "assessed and treated by park emergency medical providers, and later taken to and released from the Old Faithful Clinic."
Spending time in nature is fantastic and necessary, but if you ever find yourself in a similar situation, the National Park Service advises staying 25 yards away from all large animals like bison, elk, bighorn sheep, deer, moose, and coyotes and at least 100 yards away from bears and wolves.
"If need be, turn around and go the other way to avoid interacting with a wild animal in close proximity," the NPS said in a statement.
Sadly, this isn't the first instance of a bison charging at a tourist. Just last year, a guy was filmed "taunting" a bison who charged at him. Fortunately, that guy escaped unharmed. There are also tons of video of bison ramming their horns into the backs of cars as they drive through national parks.
"Getting close to wildlife is not a smart idea," Denise Germann, the public affairs officer for Grand Teton National Park, revealed in the Today video. "I know everybody likes to get that selfie. They like to get that great photo but safety needs to come first."
The family has not been charged or given a citation as this incident is still under investigation.
This article was originally published on