Ballet Dancers Of Color Can Finally Get Shoes That Match Their Skin Tones
by Christina Marfice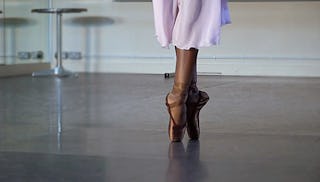 Image via BBC News
For centuries, ballet shoes have only been made in shades that complement white dancers. That's finally changing
Cira Robinson recently told the New York Times about what has long been a regular ritual for her: staining ballet shoes with everything from spray paint to cheap foundation, so that they would match her black skin. "I'd go to the cheapest stores and get foundation," she said. "Like, $2.95 cheap." That's because it took five tubes per week to cover every wrinkle and ribbon on the 12 to 15 pairs of shoes she'd go through as a professional dancer.
This practice, known in the dancing world as "pancaking," has long been necessary for dancers of color. Finally, though, it's becoming a thing of the past. After literally centuries of only producing pink and beige pointe shoes that complement white dancers, several companies, including major ballet supplier Freed, have started making shoes in other shades. Finally.
It might seem like a small detail, but what many people don't understand is why the tutus, tights and shoes are made in a specific color. They're meant to blend in with the skin of the dancer, so every part of their body, outfit and shoes is a clean, uninterrupted line as they dance. So for black and brown dancers to wear pink or light beige shoes completely defeated the purpose. And for the hundreds of years that pointe shoes have existed, it's been a way to silently tell dancers of color they don't belong.
"This isn't about shoes, this is about who belongs in ballet and who doesn't," Virginia Johnson, artistic director of the Dance Theater of Harlem, told NYT. "It's a signal that the world is open to you."
Unfortunately, ballet dancers generally get their shoes from specific suppliers that make them just the way they like, so a small handful of companies making shoes in inclusive colors isn't an end-all solution to the barrier's existence. It also doesn't address the bigger issue at play: that the vast majority of professional ballet dancers are white.
But still, it's a step in the right direction, Johnson said.
"It was quite wonderful to be onstage and just to be myself, 100 percent the color I was," she said. "One line, one shape, a color that has integrity."
This article was originally published on