White Woman Brings 9-Year-Old Black Child To Tears Accusing Him Of Assault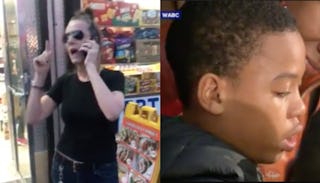 Image via Facebook/ABC News
The young boy addresses his entire community after being wrongly accused by a white woman on a rampage
The nine-year-old black boy at the heart of a recent upsetting viral video is speaking out after an adult white woman wrongly accused him of touching her inappropriately in a corner store. His message is a powerful one — he doesn't forgive her.
And honestly, why should he?
Young Jeremiah Harvey stood before a crowd in his community with tears streaming down his sweet face. Last week, a woman named Theresa Klein falsely accused Jeremiah of grabbing her "ass" while at a local corner store. Security footage pulled from the time of incident showed absolutely nothing of the sort. That didn't stop Klein from causing a five-alarm scene at the time, by calling the police on the boy and eating up the attention she received by passersby. She even egged on those who filmed her outburst — all while Jeremiah and his sister were standing, terrified and sobbing and helpless along with their mother.
After it became quite clear her claims were fabricated, Klein offered a lame public apology. But Klein joins the ever-growing list of white women who call the police on members of the black community for simply existing.
Jeremiah's emotional, heartbreaking response one week after the incident shows just how deep this damage runs for him and his family.
Jeremiah tells local ABC News station WABC he doesn't accept Klein's apology. "I don't forgive this woman, and she needs help," he said.
Forgiveness is a nice idea and all, and it might work for some people. But it certainly doesn't take away what happened — and if we continue "forgiving" women like Theresa Klein, then we'll never see the end of racist white people feeling empowered enough to call the police and wasting everyone's time — and making young children like Jeremiah collateral damage in the process. Her thoughtless, selfish, terrorizing actions have now made this a defining, traumatic moment in this boy's life, and one that will undoubtedly affect him for the duration of it.
Also, for what it's worth, fuck this woman for all eternity for putting out false accusations (against a child, no less) when we're all working our hardest right now to dispel the notion that women lie about sexual assault.
Brooklyn Borough President Eric Adams organized the community meeting where Jeremiah addressed the crowd with his mom standing right beside him. During his speech, Jeremiah also talks about Martin Luther King Jr., and how he worked so hard to bring white people and black people together.
"Friendship is really the key."