Black Fatherhood: Crushing Racial Stereotypes As I Raise My Daughter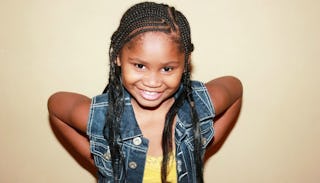 ellemclin / Pixabay
The moment I found out I would be a father to a little girl, I immediately experienced a rush of mixed emotions. I felt the excitement of having a child, the pressure of the added responsibility, and the fear of the unknown.
Through the media, shared stories with friends, and my own interactions, I have witnessed the emotional impact a father's presence, or lack thereof, can have on a young girl across all ages and races.
When a father is not involved, I have witnessed women seek the approval and love of men to fill the void. I have met women who are emotionally closed off because, at a young age, the love they sought from their father was missing.
Before my daughter was born, I knew that one of the most important things for me to do as a father was to protect her from having to experience this same burden.
How could I do this? I had to be present.
Although the media often portrays the black family as broken, or black children growing up in fatherless homes, that narrative was foreign to me. I grew up in a middle-class black neighborhood where my friends and church family were comprised of black families. In those familial units, the father was not just present but also a provider, mentor, and major support system.
In my circle of peers, we were rewriting the narrative on this topic of black fathers and families.
Growing up, this was my black father: He woke up at 5 a.m., caught a bus to New York 30 minutes later, and made a 2-hour commute each way to provide for his family. Yet he never missed a sports game, school play, or graduation.
That's the kind of father I want to be.
When my daughter was born and I held her for the first time in the hospital, I knew I would always be there to protect her. She was the most beautiful thing I had ever seen. The immediate connection and love I felt for her is hard to convey in words — even now. I saw this blank and beautiful canvass and knew it was my responsibility and privilege to help paint the story of her life.
The first few months of parenting were filled with sleepless nights from a crying baby, hours washing bottles, changing diapers, giving baths and losing free time — all while juggling a full-time job. I was the sole provider in the household and felt the pressures of providing the best for my young daughter.
Although I would be exhausted from sporadic sleep the night before, when I would finally get home from work, the best part of my day was seeing my daughter. The look of excitement when she saw me, the look of recognition in her eyes, and the feeling of love made all the struggles worth it.
In those moments, I was no longer tired and no longer concerned with the financial burdens I had to carry. My only concern was loving my daughter, bonding with her, and being her support system.
Just as my father was there for every sporting event, school play, and graduation, I was there, camera in hand, for the first time she stood, the first time she walked, the first time she talked, and every time she fell — that was the hardest part.
When my daughter was born, I imagined all the fun things we would get to do. However, when I looked at her, I looked in the mirror and looked at the news. I was reminded that I wasn't just raising a daughter. I was raising a black daughter.
So I had to let her fall so that she could learn to pick herself up. Although she was just a small child, one day she would be a black woman who would need to be self-reliant, self-confident, resilient, and strong.
It's always been my goal to raise a daughter who would grow up knowing how to provide for herself, change her own tires, mow her own lawn, and steer as the captain of her own ship.
It's from their fathers that daughters learn how they should be treated in relationships with men. Every day, I have to balance showing love and compassion with instilling discipline and raising a strong woman.
This is my greatest gift and greatest responsibility.
I want her to be familiar with the idea of a man displaying compassion, responsibility, honesty, provision, protection, and above all else, love.
That's the kind of black father who raised me. Those are the kinds of black fathers who raised my friends and relatives. And that's why I'm committed to being the best black father for my daughter.
This post originally appeared on Dad Will Do It.
This article was originally published on