We Can Shop Black Friday Sales From Home, And We Are Here For It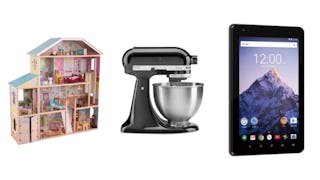 Walmart.com
I love the holidays. I love the lights, the music, the food. I love the gift-giving, and baking, and eating. (Okay, I realize food is basically on there twice. It's been quite a year. Don't judge me.)
I am that girl who still blasts NSYNC's Christmas album, while baking Christmas cookies, while making it look like the North Pole exploded in our living room. Love it or don't — this is just who I am.
I even love holiday shopping. The mall situation during the holidays? Not so much. Luckily, retailers are catching on to the fact that we don't want to have to leave the house in order to take advantage of Black Friday sales.
So tell your partner to watch the kids for a few hours while you go brave the crowds. Then, grab a coffee, get a pedicure, use this list of kickass deals, and get your shopping done during your spa day.
Some of the biggest deals that the whole family will love:
Ah, the time-honored tradition of scoring a TV on sale on Black Friday. This Samsung 55″ Class FHD (1080P) Smart LED TV is available at deep discount on its standard retail price of $1,199.99.
Then there's this EastPoint Sports Easy Setup Fold 'N Store Table Tennis Table, where you can play table tennis with the kids by day, and play some prosecco pong with the ladies on your next girls' night.
For my fellow foodies:
Maybe you like to stress-bake. Maybe you're just lucky enough to know someone who does. Either way, this KitchenAid Classic Series 4.5 Quart Tilt-Head Stand Mixer is a must-have.
There's also this Copper Chef 7pc Cookware Set. These non-stick pans will save you time on dishes — more time to binge-watch Netflix on your new Samsung.
Some foolproof backup for Santa:
Maybe your kids aren't into table tennis and would rather have an air-powered hockey table instead? This MD Sports 48-inch Air Powered Hockey Table is sure to be a hit. Or a goal. Or whatever the hell it is they say in air hockey.
I can already imagine my daughter shrieking with joy on Christmas morning over this. Trust me, if there's a little girl in your life that you're looking to make happy, this KidKraft Majestic Mansion Dollhouse with 34 Accessories should do the trick.
Budget-friendly electronics for the kids:
Kids grow up so fast; they go from wanting to play with the box the toy comes in, to only wanting iPhones, in 10 years flat. Here's a tablet that you won't have to take out another mortgage if something happens to it.
If you're looking to encourage some study time, this RCA Galileo Pro 11.5″ 32GB 2-in-1 Tablet with Keyboard Case Android 6.0 is a tablet that converts into a laptop when they need it.
And don't forget to browse Jet.com on Black Friday. They'll have some unbeatable sales on toys and gadgets, including almost 50% off of Google Home Minis and Blu-Ray DVD players with 3-D Capability:
As well as stuff we'll want to get for ourselves, like 20% off makeup and skincare products:
Yes, I do believe Christmas has come early this year.
So, if you need me, you can find me singing "O Holy Night" along with my favorite late-'90s boy band for the foreseeable future.
This article was originally published on