Women Wore Black And Kicked Ass At The Golden Globes Last Night
by Megan Zander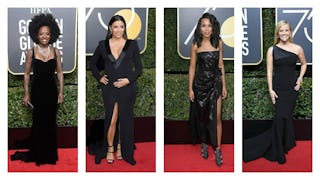 Images via Getty Images
The anti-harassment movement caused a 'blackout' on the red carpet
When women decide to work together, nothing can stop us. We saw proof of the power of females in action at last night's Golden Globes — where women mobilized to bring attention to not only the unfairness and abuses in Hollywood, but the treatment of marginalized women everywhere.
To raise awareness for the recently launched Time's Up anti-harassment initiative, project frontrunners, (including stars like Shonda Rhimes, Reese Whitherspoon, Eva Longoria, Rashida Jones, and America Ferrera, to name a few) asked fellow attendees to wear black to this year's Golden Globes.
Nearly every star in attendance showed up in black to support the movement. Men also donned all black and many sported "Time's Up" pins on their lapels.
Tracee Ellis Ross is here to take on the world, per usual.
GOT's Emilia Clark:
Thanks to all the onxy-hued gowns, the usual surface questions about what designer the stars were wearing were absent from red carpet interviews. Instead they were asked about the work that lead to them being at the awards (how novel!), or why they were choosing to take part in the movement.
One of the main goals of Time's Up is to help marginalized people in all industries stand up to their sexual harassers. As part of the initiative, a Legal Defense Fund, administered by the National Women's Law Center's Legal Network for Gender Equity, has been established. The fund is being overseen by former Michelle Obama Chief of Staff Tina Tchen and will pair female and male victims of sexual harassment, abuse, or assault in the workplace while in pursuit of their careers with attorneys to provide subsidized legal assistance. Thanks to donations from A-listers and regular people like us, the fund has raised over $15 million so far.
Debra Messing used her time on the red carpet to call out E! for not paying former host Catt Sadler parity with her male counterparts.
"I was so shocked to hear that E doesn't believe in paying their female host the same as their male cohost," Messing said to E! host Ryan Seacreast. "I miss Catt Sadler and we stand with her. And that's something that can change tomorrow. We want people to start having this conversation that people are just as valuable as men." Can you do a mike drop when someone else is holding the mic? Because I think she just did.
Here's Kelly Clarkson:
Eva Longoria, one of the founders of Time's Up:
She too used her time on the carpet to highlight the bullshit that is Sadler not getting paid the same as her male coworkers. "We support gender equity and equal pay," she said. "We hope E! will follow our lead. We stand with Catt Sadler."
Writing for The New York Times, Amber Tambyln explained her reasoning behind donning black for the Golden Globes. "We actresses are not just modeling clothing when we walk a red carpet on award show night. We are modeling a kind of behavior," Tambyln writes. "We are speaking in a coded language to other women — even young girls — that says: The way I look and what I wear and how I wear it is the standard for women. What is being worn is not an exception. It is the rule. You must dress a certain way and look a certain way if you want to be valued as a woman, no matter what you do for a living or who you are. We never intend for this to be the message we are sending with what we wear, but often it is the perceived one, whether we like it or not."
Insecure's Issa Rae:
Reese Whitherspoon:
The protest spanned generations. Here's Stranger Things' Millie Bobby Brown:
As Tambyln explains, "Wearing black is not all we will be doing. We will be doing away with the old spoken codes in favor of communicating boldly and directly: What we are wearing is not a statement of fashion. It is a statement of action."
She's right. This year's Golden Globes red carpet wasn't just about fashion. It was a historical event — an entire group of people coming together to make a statement, not just with their clothing but with their time at the microphones too.
Michelle Williams took activist and #MeToo creator Tarana Burke as her plus one:
"That hasn't been on my mind the last couple of weeks," she said when asked about her nomination. "We've been so excited about changing the carpet from just a fashion moment and a parade of dresses to something that means so much to all of us."
Viola Davis said she hopes the show of solidarity will help sexual assault and harassment victims that have yet to step forward.
"There's no prerequisite to worthiness. You're born being worthy. And I think that's a message that a lot of women need to hear. The women who are still in silence because of trauma, because of shame … they need to understand that it's not their fault … that's my message tonight."
It wasn't just women who turned the red carpet into a sea of black. Plenty of men, like Justin Timberlake, wanted to make their status as supporters known. They wore Time's Up pins to show that their fashion choice was deliberate and not just because, let's face it, most guys wear black tuxes to award shows.
Kerry Washington:
"The reason we're here, the reason we didn't just stay home is because we feel like we shouldn't have to sit out the night, we shouldn't give up our seats at the table, our voice in this industry because of bad behavior that wasn't ours," she said. "We get to be here to celebrate together to and support each other and to stand in joy and solitary and say we are looking our for anyone who feels marginalized in the workplace."