10 Black History Books Your Kids Need To Read ASAP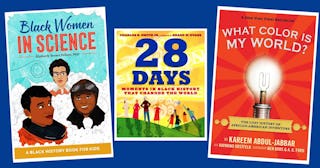 Amazon
Let's be real. When schools teach our kids about black history—if they even do it at all—the teaching is usually limited to sugar-coated, superficial lessons on civil rights and slavery. Of course, this is deeply problematic since black history is American history. There is so much more than just Dr. Martin Luther King, Jr., and if we want to raise anti-racist children, we have to start teaching them now.
So what's a parent to do? When we only teach children about the suffering, pain, and terror that black people faced, we're leaving out rich, incredible history, both events and historical figures. Though I am thankful that popular retail stores like Target are making it a point to spotlight Black History Month and some educators use February to focus on black history, our children deserve more. A single "I Have a Dream" art project isn't enough to raise racially-conscious kids. Black history should be part of everyday learning for parents and their children, not a few lessons limited to a single month.
Parents have the important job of making sure their kids understand not only the hardships that black people have endured and how that has plagued generations to this day, but also the many victories. Thankfully, there are many fantastic, comprehensive books available. They beautifully demonstrate the diversity within the black community while teaching powerful lessons about perseverance, creativity, and talent. Gone are the days of ho-hum textbooks and encyclopedias with teeny print—thankfully–and in are books made just for kids.
As a mom of four black children, we personally have utilized all of these books to help my children understand how truly magical their racial history is. I'm betting that your children will love them as much as mine.
Jabari Asim walks readers through history in chronological order, complimented by detailed illustrations. He explores many different topics and figures, including Black Wall Street, Michael Brown and the city of Ferguson, Serena Williams, and slavery. This book is best for tweens, though younger children can glean some information from the illustrations.
This beautifully composed book by Jamia Wilson and illustrated by Andrea Pippins helps readers explore fifty-two incredible black people, some past and some current. Some of our favorites include Michelle Obama, Simone Biles, Nelson Mandela, and Oprah Winfrey. This book is perfect for kids in upper elementary grades.
This faith-based children's picture book by Carole Boston Weatherford and illustrated by Tim Ladwig guides readers through the magnitude of black historical events. Told from the voice of God, elementary age readers learn about the Civil War, Marian Anderson singing at the Lincoln Memorial, and Emmett Till's death, among other poignant times in history.
Charles R. Smith, Jr. and Shane Evans teamed up to give young readers 28 moments in black history, one for each day of February. Recommended for kids ages six to ten, we learn about Barack Obama becoming our 44th president, Dred Scott and the 14th amendment, and Matthew Henson and Robert Peary, the first two men to reach the North Pole.
Vashti Harrison guides readers through trimmed biographies and illustrations of some of the most influential and talented black women in history. We learn about pilot Bessie Coleman, mathematician Katherine Johnson, writer Maya Angelou, and abolitionist Sojourner Truth, among many, many others. This powerful collection of stories is best suited for tween readers.
After the overwhelming success of her book on women in black history, Vashti Harrison released a second book featuring black men. Tween readers will learn about writer James Baldwin, inventor Garrett Morgan, musician Louis Armstrong, and poet Langston Hughes, among many others.
Written by Kwame Alexander and illustrated by Kadir Nelson, The Undefeated has quickly become one of the best contemporary children's picture books, picking up multiple awards including a Newbury and Caldecott. Geared toward grade school children, readers learn about events and figures surrounding slavery and civil rights, but most importantly, the message that despite all the horrors, black people are undefeated.
Dr. Kimberly Brown Pellum teaches children about 15 black, female scientists who changed history. My science-loving daughter enjoyed learning about Annie Turnbo Malone, Flemmie Pansy Kittrell, Patricia Bath, and Mamie Phipps Clark. The book is at a tween reading level.
Authored by NBA legend Kareem Abdul-Jabbar, What Color Is My World? guides tween readers through history, highlighting often-forgotten black inventors. He teaches us about Joseph Lee, inventor of the bread machine, and Alfred L. Cralle, inventor of the ice cream scoop, among several others.
My oldest two daughters and I composed a poetry book for black girls just like them. Vibrantly illustrated by Sharee Miller, we share 20 poems including some that feature the importance of strong, influential black females. Other poems feature topics including natural hair, friendship, black Santa, and celebrating melanin. Our book is geared toward elementary age girls.
Each of these incredible books teaches children that black people shouldn't be stereotyped as only being talented in the arenas of sports and entertainment. Furthermore, they expand kids' knowledge of black history in a relatable, engaging way. What are you waiting for? Load up your cart and start teaching your kids that black history matters.
We may earn fees from purchases made via links on this page and affiliated sites. All opinions are our own.
This article was originally published on