Black History Month Means Honoring Current Black Role Models Too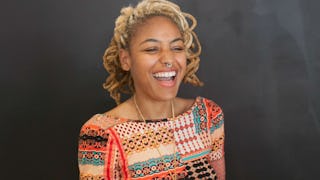 Last week, I went to my local library hoping to find some Black history-related children's books. Despite living in an overwhelmingly white neighborhood, my library has repeatedly proven to be a hub for cultural materials. I was more than excited to see what unknown facts they'd chosen to highlight for Black History Month.
But when I got to the children's floor of the library, I was let down. There was a themed cultural table for the Chinese New Year, but there was nothing to speak of Black History Month. This didn't bother me because I know there's room to celebrate more than one cultural event at a time. Still, the more I searched, the less faith I had that there was a dedicated area on the children's floor.
Hoping I'd made some sort of mistake, I walked up to the nearest library attendant and asked the question that had been on repeat in my head since arriving. She looked at me with an uncomfortable expression and explained that there wasn't one.
Still, she wanted to help.
Instead of a section that highlighted current Black role models and authors, she led me to a section that included a handful of scattered books that included Black characters. Overwhelmingly, the books were quite old, and most of the books centered around slavery and the Civil Rights Movement.
Sure, there were books that addressed Blackness present at the library, but all of them referenced the Underground Railroad, MLK, or sprinkles of other over-referenced moments in Black history.
I was disappointed that the library I knew and loved had dropped the ball. You might even say I was frustrated by the whole exchange. But the longer I thought, the more I realized that's a pretty typical situation. Often, our society half-asses Black History Month and recycles the same characters year after year — not much different than what I'd witnessed on the children's floor of the library that day.
I also wondered if the library attendant's expression was one of embarrassment due to not having a display or simply discomfort from perceiving my question as overly forward and hostile.
How were those of us who depended on the library going to teach our children about a steady rotation of Black change-makers if the library didn't see our month of acknowledgment worth observing?
Despite this, I refuse to recycle the same figures of yesteryear for my own kids. I'm going to make sure I have the resources to use Black History Month (and the other 11 months of the year, for that matter) to teach them about current Black public figures.
Every February is the same. Out of nowhere, Black and non-Black folks alike center the contributions of Black Americans. It's frustrating for those of us who acknowledge Black achievement 365 because like CME (Christmas, Mother's Day, and Easter) churchgoers, the lack of variety in the figures they select makes it clear they haven't really studied any Black history makers.
Sure, there's a part of me that's excited to see Black culture contributors exalted at any capacity. For one short month, many Americans seem to actually agree that Black lives do matter. But I also understand that it's most often a façade so I can't really celebrate.
I love Black History Month, but I hate that so many individuals believe February is the only time to highlight us as worthy members of society.
In hopes of protecting my children from limited appreciate syndrome, I will bring up Black history every day. They're young now, but through the years they'll notice the African and Black American inspired teaching guides spread throughout the house.
I think Black History Month is important. But that doesn't mean that I don't also have criticisms with the way we execute it. Every year during Black History Month we have talked about the same figures repeatedly. The folks we linger on depend on our political beliefs.
Those who want to play it safe go with good ol' Rosa Parks and Martin Luther King Jr (and completely neglect MLK's critiques of capitalism and classism) highlighting the benefits of non-violent passive resistance and criticizing more current movements like Black Lives Matter.
Folks who were on the more radical end of the spectrum highlight Malcolm X, James Baldwin, and dare I say Stokely Carmichael — these are the civil rights leaders who de-centered white comfort during their fight for equality.
In the early years, I'll set a foundation with each of these. I've learned the hard way that centering white people's feelings will always limit progress. But that doesn't mean they should take a separatist perspective and overlook the ways allies continue to make an impact throughout history.
In our household, BHM will begin with a foundation on well-known figures but focus on the accomplishments of the present.
We shouldn't have to wait until our thought leaders are dead to acknowledge their impact.
I really believe the way we discuss Black community leaders can send subliminal messages to our children. I fear that if we continue to prioritize the contributions of the Black historical figures of America's past, our children might be left wondering what we're doing now. I don't want to send the message that we're only making progress once every 150 years.
Instead of addressing the accomplishments of these figures as "just Black history highlights," I'm going to remind them that Black history is American history — without us, much less progress would've been made. Concurrently, I'll let them know that it's still vital that we explicitly state their identity is Black Americans because we work so hard to overcome a unique set of barriers in the United States.
Our greatness is timeless. It existed in the past yet continues to unfold in the present. If we prioritize folks like Tamara Burke, Kamala Harris, and Angela Rye of today, they will understand Black successes as a continuation, rather than a memory, of the past.
The way we do Black History Month in the United States is both a disservice and an insult. It is a disservice to the generations of youth growing up convinced Black success is a historical conception. And it is a downright insult to the many exceptional Black Americans who continue to do great things.
Dedicated library table or not, Black history, present, and future are worth celebrating.
This article was originally published on