Black And Latinx Teens Are Missing, And No One Is Reporting On It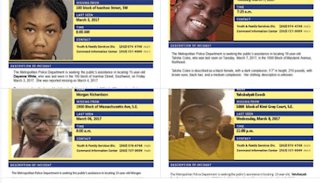 Media outlets have been criticized for not covering the cases
Ten black and latinx teens from Washington, D.C. have been reported missing in the last 10 days, and their disappearances have gone widely unreported by media outlets. Thankfully, several viral tweets and news stories have given the missing teens the attention they desperately need.
Thankfully, in the last 24 hours, some of the teens have been found including Antwan Jordan and Taylor Innis. Some of the still missing teens include 15-year-old Jacqueline Lassey, 13-year-old Yahshaiyah Enoch, 15-year-old Juliana Otero, 15-year-old Dashann Trikia Wallace, 13-year-old Aniya McNeil, 15-year-old Dayanna White, 16-year-old Talisha Coles, and 15-year-old Morgan Richardson, according to Teen Vogue.
The Washington, D.C. police department has been tweeting out photos and information about the missing teens. Seeing them one after another is jarring. Where are these kids and why aren't more people talking about this?
Outside of local media outlets, the cases were largely ignored by national TV stations and newspapers. How many people of color have to go missing before traditional news outlets care?
The media's seemingly blind eye toward missing people of color and focus on coverage of missing young, attractive white women is so common that long-time PBS reporter Gwen Ifill came up with an official term for it: "missing white woman syndrome." The concept is so prevalent that the S. I. Newhouse School of Public Communications (a very prestigious journalism program) at Syracuse University researched and wrote a report on the concept. Essentially it's when the mainstream media gives attention and preference (i.e. airtime and print space) to the cases of young, white, attractive women from middle or upper-class homes instead of the folks who don't fit inside that category.
This is detrimental to the success of the cases. How can people call in tips for missing people if they don't know that stranger they saw in a parking lot or gas station bathroom is missing? Coverage is incredibly important in places like D.C. where the cops seems to have a larger issue at hand with missing teens. According to Fox 5, there were as many as 15 open cases involving missing girls from Washington, D.C. in January 2017 alone.
These teens and their families deserve attention and justice just as much as anyone else.
If you have information on the missing teens, call the Washington, D.C., Police Department at (202) 727-9099.
This article was originally published on