Black Lives Matter Activists And Police Officers Throw A BBQ And Bring People Together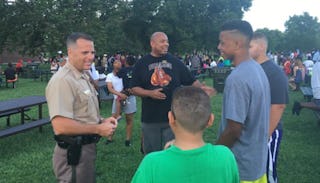 Image via Facebook
Black Lives Matter activists and police officers had a chance to talk during a Sunday BBQ
A group of Black Lives Matter activists sat down for a meal with several police offices in Wichita, Kansas recently. In doing so, a productive conversation has begun.
According to The Huffington Post, Black Lives Matter activists and Wichita police hosted a "First Steps Cookout" this past Sunday where food, provided by the police department, local businesses and the community, was accompanied by discussions between both groups.
Wichita police chief Gordon Ramsay told the local news station, "Very good vibe. Very good vibe. It's everything I was hoping for." The cookout was in place of a planned protest march, with Ramsay arranging the event in conjunction with activists during another peaceful protest a few days earlier.
Ramsay's goal in coordinating the BBQ was to provide a chance for both groups to meet under fun and positive circumstances. The response was definitely a positive one, as the turnout was more than double the number of RSVPs with an estimated 800 people showing up.
In addition to talking over burgers and other food brought in by attendees, Ramsay led a question and answer session where the community was able to give voice to issues that concern them. It wasn't all positive feedback, but the conversation flowed. Some suggested the cookout was a distraction to the real issues while others wondered about the department letting bad officers go. Ramsay said, "Loud and clear I have zero tolerance for racial profiling or racial bias," and announced that to that end, Wichita officers will now be wearing body cameras with everything recorded.
A.J. Bohannon, a Black Lives Matter organizer, told KSN, "First thing we want to do is break that boundary and break that barrier, the second thing we want to do is start that conversation."
In that way, it sounds like both police and activists are on the same page. Ramsay explained to KWCH, "This isn't something we're going to change overnight or tonight. It's just going to take continual effort on everybody's part. And work on policy changes, relationships. And that's what's going to get to the heart of the issues."
And while real change and peaceful relationships will certainly take time, it's encouraging to see an event like this happening in the first place. Getting to know each other as human beings is an important first step in understanding where everyone is coming from. Having a peaceful conversation over lunch at a park sounds like a great way to get a flow of communication going.
Hopefully, other cities and towns will follow suit.
This article was originally published on