This 'Black Lives Matter' Themed Book Is For Everyone, And You Should Read It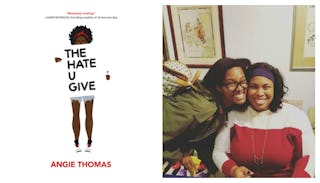 Balzer + Bray / Sa'iyda Shabbaz
The Hate U Give Little Infants Fucks Everybody — the sentiment was used to explain the T.H.U.G. L.I.F.E. tattoo rapper Tupac Shakur had emblazoned across his abdomen. The acronym (and its accompanying meaning) gives credence to a mentality that those who are underserved by the world around them will grow to create unrest in that same world that neglected them.
Shakur was speaking specifically to the black community, who has been beat down and neglected by America since we were brought here against our will in chains on slave ships hundreds of years ago. In the 1990s, when the phrase was coined, the black community was trying to overcome inner-city violence, poverty, and the crack epidemic while dealing with a government who painted us as criminals, thugs, thieves, and welfare queens.
In the 20-plus years since Tupac explained "thug life," unfortunately not much has changed for black folks in America. We are still living in underserved, neglected communities. Poverty is still a huge problem, and our community is being ravaged by senseless police killings of innocent black men and women.
All of this unrest, and the need for revolution and long-term change, is perfectly encapsulated in the young adult novel The Hate U Give by Angie Thomas. Thomas, who is a self-professed fan of Tupac, was deliberate about using this phrase as the title of her novel. It is a major theme that runs throughout the book.
The Hate U Give tells the story of Starr Carter, a young black girl who lives in Garden Heights, an all-black neighborhood. When Starr is being driven home from a party by her childhood friend Khalil, they are pulled over by the cops and Khalil is fatally shot by the police officer who pulls them over. Starr is then thrown into the eye of a storm, trying to deal with being the sole witness to the crime, standing up for her friend, protecting herself and her family, and being the only black girl in her social circle at her mostly white prep school.
Inspired by the police killing of Oscar Grant III (the film Fruitvale Station tells the story of Grant's final hours) and the trial for the murder of Trayvon Martin, The Hate U Give started out as a short story for Thomas's senior writing project, and then because her story is so powerful, she was encouraged to turn it into a novel.
The Hate U Give (also known as THUG) has been revolutionary since long before its release. HarperCollins' Balzer + Bray imprint bought the rights to the novel after 13 publishing houses bid for the rights. Fox 2000 has already acquired the film rights, and the film is currently in development, with Amandla Stenberg set to play Starr.
The novel also received an unprecedented eight starred reviews before its release. It has spent every week since its release as No. 1 on the New York Times best-seller list for Young Adult Fiction.
It has become the de facto fictionalization of the Black Lives Matter movement.
And it is for everyone, not just young adults.
Through Starr, Thomas is able to confront issues many black Americans face: how to confront injustice, and what to do when you straddle both sides of the fence. Though Starr lives in an all-black neighborhood, she goes to a predominantly white prep school. At school, she cannot be the same person she is at home for fear of falling into the stereotypes that white people have of black people, especially the "angry black woman" or "ghetto" trope.
Starr must also keep elements of her life at school away from her home life, such as not telling her father that she has a white boyfriend. Starr's father, Maverick "Big Mav" Carter is a former gang member who has spent time in jail, but has moved past his former life and is now a business owner in their community. He has taught Starr and her brothers about race relations in America, groups like the Black Panthers and the good they did, and the teachings of Malcolm X.
These characters jump off the page in real, relatable ways. They are a family, and through their love and lessons, Starr is able to grapple with what she has witnessed and figure out how to deal with the fallout. Thomas never resorts to stereotypes, she weaves truths throughout the book with brilliance.
At an event for the book in New York City, Thomas spoke candidly about the experiences and people who helped shape the characters and the narrative. Hayley, one of Starr's best friends, and one of the most prominent white characters in the novel, is one of the story's main antagonists. She was inspired by white friends Thomas had in college. She told a story about a car ride after class where one of the white girls in the car was afraid to cross from the white part of town and into the "ghetto" where Thomas lived to take Thomas to her car.
Her cluelessness isn't unfamiliar to black people who have white friends, and her unapologetic racial microaggressions definitely hit home. It would be easy to paint the police as the ultimate villains of the novel because, well, they are, but Thomas deftly weaves in the character of Starr's uncle Carlos, who is also a police officer, as an homage to the law enforcement officers she has in her family and who show the struggle of black men who are on the police force in these kinds of situations.
Thomas also spoke to the necessity of a protagonist like Starr, explaining that publishing had "failed her" as a child with a lack of black main characters and authors, and it wasn't until college that she met a black author which gave her the encouragement to pursue writing as a profession.
It would be easy to pigeonhole The Hate U Give as a young adult book or a book specifically for black people. But it is not exclusively either of those things. While it is a book with a teen main character, adults will be able to relate to her and recall the typical teenage problems she faces, such as annoying siblings, clingy parents, and growing apart from friends.
White readers may not be able to relate to the more racially driven parts of the storyline, but they will be able to gain more insight into the struggles that black people in America face when these kinds of injustices occur. Hopefully, it will help them to gain perspective and empathy for people of color and the issues we face.
When I read early excerpts of the book, I knew that it was going to change the game and usher in a new wave of voices to the young adult landscape. And it has. Don't be surprised if your children bring this book home as required reading in years to come. It expertly captures this moment in history in a way that contemporary books often don't. The Hate U Give, and Angie Thomas, deserve all of the praise they've received, and then some.