Black Men Arrested At Starbucks Settle With City Of Philadelphia For $200K Youth Program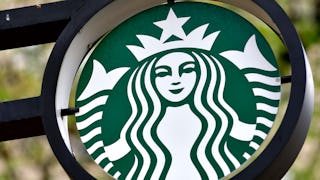 Image via NurPhoto/Getty Images
Rashon Nelson and Dante Robinson made sure the teens of Philadelphia got a youth program
Rashon Nelson and Dante Robinson were arrested at a Philadelphia Starbucks last month for no reason at all, sparking far-reaching outcry and protests of the coffee chain for what was seen as blatant racism and discrimination. Instead of trying to get the city to pay them a big settlement, the two men instead settled with Philadelphia for something pretty amazing: a $200,000 young entrepreneur program for kids.
The Associated Press reports that Philadelphia Mayor Jim Kenney (D) and other local officials reached an agreement with Nelson and Robinson. "I am pleased to have resolved the potential claims against the city in this productive manner," he says. The two men each received a symbolic settlement of $1 each and a promise that the city will foot the $200,000 bill to start up a program for the city's public high school students to learn more about becoming entrepreneurs.
"This was an incident that evoked a lot of pain in our city and put us under a national spotlight for unwanted reasons," Kenney says.
"We thought long and hard about it and we feel like this is the best way to see that change that we want to see," says Robinson. "It's not a right-now thing that's good for right now, but I feel like we will see the true change over time."
As part of the settlement, the men will both have their arrest record from the incident expunged. Nelson is looking on the bright side saying he now views what happened on April 12th when the manger of a Starbucks called the police because the two men hadn't bought anything as "the wrong place at the right time because of the outcome that can come out of it."
In the days after the controversy sparked by their arrest, Starbucks CEO Kevin Johnson came to Philadelphia to meet with Nelson and Robinson for a conversation about what happened and an apology. He also announced that the coffee giant would close their stores for the afternoon of May 29th to conduct an employee training in unconscious bias in order to avoid future instances like what happened at the Philadelphia store last month.