Shop These Black-Owned Bookstores For Your Next Read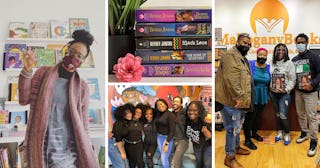 Bliss Books & Wine KC/Mahogany Books/Semicolon Bookstore/ braveandkindbooks/Instagram
We hear how important it is to shop small and shop local, but this is more true now than ever before. The coronavirus pandemic has hit small businesses—hard. One way we can look out and care for one another is by helping keep smaller businesses in business. Plus, now that we're all stuck inside, thanks to the virus and winter, we have more time to curl up with a good book. Why not purchase our next read from a Black-owned bookstore?
I'll never forget the first time I took my kids to EyeSeeMe in St. Louis, just a half-hour from our home. EyeSeeMe is one of the only Black children's bookstores in the country. The small store was jam-packed with board books, chapter books, and picture books featuring Black children. My kids had a hard time choosing just one. The store was pure magic, brimming with "representation matters" — and the owners readily opened their arms to every person who came in. There's just something so intimate and beautiful about shopping local and from a store where the owners know and care about their customers.
Though visiting a store in-person may not be your cup of tea (or even possible) right now, the next time you're ready to choose a book, you can shop online from a Black-owned bookstore. It's a wonderful way to honor Black History Month, as well as a great habit to start. If you're going to hand the same amount of money over for a product, at least put those dollars in the hands of small business owners.
Check out our list of some of the wonderful Black-owned bookstores across the country, and consider choosing one to order your next book from.
Semicolon Bookstore and Gallery in Chicago
Semicolon's story is pretty incredible. They share that their owner, Danielle, "walked by a space for rent on a random summer day" which has "now grown into a movement to change the narrative of what Black book-buying AND bookselling looks like!" Their focus is "on community and literacy," and their store is staffed by Black women. Their book selection includes reads for babies, children, and adults, selling classics like "Beloved" by Toni Morrison and the latest new releases like "The Kindest Lie" by Nancy Johnson. They also offer apparel.
Third Eye Books, Accessories, & Gifts in Portland
Third Eye Books opened in 2019 by Michelle Lewis and Charles Hannah. They believe their products "can be used as a tool to motivate, inspire, restore or enhance a person's cultural pride and to bring forth happiness and healing into the hearts of our customers." They also practice "cooperative economics by giving back to the community and supporting community based organizations that uplift and empower Portland residents." Whether you want to read the late Cicely Tyson's new memoir "Just As I Am" or purchase a copy of the popular children's book "All Because You Matter" by Tami Charles, Third Eye Books has you covered.
Bliss Books & Wine in Kansas City
Sisters La'Nesha Frazeir and La'Nae Robinson are "avid readers, wine lovers, community champions" as well as the co-owners of Bliss Books & Wine in Kansas City. The store is operating 100% virtual right now because of the pandemic. They offer new and used books, audiobooks, and merchandise, including wine tumblers. Perhaps you've been waiting to read (or listen to) "Becoming" by Michelle Obama or Celeste Ng's latest book, "Everything I Never Told You." You can also opt in to join the store's 2021 reading challenge.
Brave + Kind Bookshop in Decatur
Brave + Kind Books, located in Georgia, offers a wide selection, including activity books, fiction and nonfiction (for all ages), graphic and chapter books, and much more. Their categorized selection makes it easy to browse and shop from the comfort of your own home. They also offer apparel, toys, and the option to pre-order the latest books.
Blackstone Bookstore in Ypsilanti
Blackstone Bookstore in Michigan is the place to order all of poet Amanda Gorman's books, "How to be Antiracist" by Ibram X. Kendi, and get a copy of the classic "Roll of Thunder Hear My Cry" for your kiddo. Established in 2013, Blackstone Bookstore strives to bring "awareness to true African-American literature and culture" and help their customers "find a spot of solace in the heart." In addition to books, they sell jewelry, movies, soaps, and more. They have access to millions of titles, and be sure to check out their 100 bestsellers list.
MahoganyBooks in D.C.
MahoganyBooks was founded in 2007 by husband and wife team Derrick and Ramunda. They opened their brick-and-mortar store in 2017, and you can shop their selection 24/7 online. They are committed to "promoting reading, writing, and cultural awareness as tools to improve self-esteem, self-love and ultimately our communities." Their store has donated more than 1000 books. Not sure which book to choose? Browse their staff recommendations and various book lists including their children's best-sellers and comics and graphic novels.
You might be wondering — if you aren't Black, should you shop a Black-owned bookstore? My answer is absolutely yes. First, white characters and white stories have been centered for well over 400 years. Media has too often portrayed Black characters as the stereotyped sidekicks or villains. Purchasing Black-authored books from a Black-owned bookstore is a way to decenter whiteness.
It's important that we unravel racism and dismantle white supremacy. We need to trade in white-as-the-norm for a solid anti-racism education. This not only changes us, but it helps us lead our children to do the same. Becoming a white ally is important, and this starts by acknowledging the harm supremacy has done and unlearning the wrong lessons we were taught. Supporting Black-owned bookstores with our dollars and in turn, our time and energy, we are helping create positive, necessary change.
This article was originally published on