Black Women Denied Jobs After Racist Employer Says Their Names Are 'Ghetto'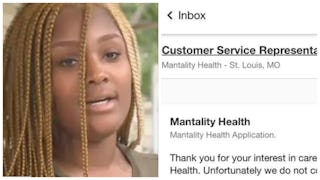 Image via KMOV/Facebook/Hermeisha Robinson
A viral Facebook post shows exactly how one company openly discriminates in its hiring process by using the word 'ghetto'
One woman's Facebook post is going viral after she called out a potential employer for racist behavior, attaching an email from the company where they say they don't consider candidates with "ghetto names."
The company, Mantality Health, is unabashedly and unashamedly racist in their hiring process — they even prove it by admitting it IN WRITING.
Hermeisha Robinson shared a screenshot of the email in her post. "Today I received an email about this job that I applied for as a customer service representative at Mantality Health," she writes. She says she knows she's well-qualified for the position, but that they discriminated against her because of her name.
Which they did. We know this because they blatantly admit it in their email to her.
After Robinson's post started going viral, Dorneshia Zachery, another black woman, stepped forward and said she received the same email. "The company looked at my name and said we don't care about what you've done in life your name is going to dismiss you completely," Zachary tells KMOV news.
Ghetto. This man and, by default, this company called their names ghetto.
Full disclosure: I'm white, and unlike ol' Jordan from Mantality Health, I'm gonna stay in my lane here and instead of personally lamenting why white people should just go ahead and steer clear of using that word, I'm going to link to this very good summary about it, courtesy of American University's public news station WAMU. And if you're white and interested in learning about more terminology to definitely avoid, please see this comprehensive list by Damon Young.
In case you're wondering (and apropos to nothing but this author's sense of humor and situational irony), Mantality Health is a testosterone replacement therapy clinic: "By providing the tools to look better, feel better and perform better, Mantality believes fully in creating a better workplace, community, and nation through bringing men back to who they used to be."
A "better workplace." You don't say?
The company didn't deny the emails were sent, but they're having police look into the possibility this may have been the work of a "disgruntled employee who hacked its job posting account on Indeed."
"This is not a reflection of who we are as a company," says CEO Kevin Meuret. "This is deplorable." He also tells KMOV he thinks approximately 20 employees were sent a similar rejection email.
While local police are still investigating the possibility of a hack, Indeed.com came forward with the following statement: "Account security is of utmost importance to Indeed and something that we diligently monitor. Account holders are responsible for use of their password and we recommend frequent updates and complete confidentiality of your password. Our investigation into this particular account shows no evidence of compromise."
This article was originally published on