Three Exceptional Black Women Won The MacArthur 'Genius Grant' Fellowship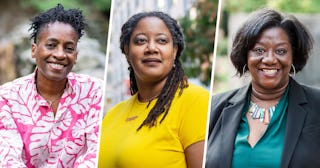 John D. and Catherine T. MacArthur Foundation
Being Black has never been easy, and today, as we deal with such divisiveness in our country, it does not look like it will get easier any time soon. But we have seen progress over the years, and in May, with George Floyd's death, some industries decided to hold up a mirror to the issues which have plagued us for centuries and wipe off the blemishes which tarnished the beauty of their particular industry.
The publishing industry is one that has committed to diversifying the world of publishing in ways that have not historically been the case. Progress is what we fight for, what we keep our eye out for — and if we don't, we should. Last week, there was more progress made for three Black storytellers.
It came by way of the MacArthur Foundation, who awarded three writers, Tressie McMillan Cottom, N.K. Jemisin, and Jacqueline Woodson, and other scholars of color. Unofficially called the "genius awards," recipients are encouraged to pursue "their own creative, intellectual, and professional inclinations," as scholars.
Awards were given based on three criteria, per the MacArthur Foundation: "1) Exceptional creativity 2) Promise for important future advances based on a track record of significant accomplishments 3) Potential for the Fellowship to facilitate subsequent creative work." The Foundation also states: "Language itself is radical. It can be used to either support or challenge the systemic racism we seek to dismantle."
Each of the (21 total) MacArthur Foundation fellows will receive a $625,000 grant to be given over a 5-year period and used at the awardee's discretion.
Their decision to bestow this prestigious award upon diverse people, especially to Black women, is a true example of what it means to walk the walk. It is imperative that we spend time getting to know the three Black authors whose storytelling and overall badassness have propelled them into the genius stratosphere. Their work centers around educating readers about race, equity, and inclusion — as these themes have historically lived in our society — and how they play out today.
Cottom, Jemisin, and Woodson have gifted us with their stories, stories that continue to force us to talk about the issues that are staring us in the face now around race. The work of these writers is important for us to all explore deeper, including me as a Black woman, to better understand race through the lens of the stories and realities that Jemisin, Cottom, and Woodson share.
In the world of readership, Jemisin's work is perfect for young adults and readers interested in science fiction in which Black characters are front and center in the storyline. Cottom's work, in particular her New York Times bestseller, Thick, brings to light beauty, Black women, and capitalism set against the backdrop of whiteness. Known for her storytelling expertise for children and young adults, Woodson's work digs deep into societal and issues of race as often experienced by the Black community: incarceration, the civil rights movement, and other complex issues.
What inspires me most about the work of these exceptionally brilliant Black women is that they use their voices in ways that push progress for us all — not only the Black community, but society as a whole. Lisa Lucas, the executive director of the National Book Foundation, spoke with the New York Times in 2019 about Woodson's work, stating, "I think of her as a person with very few limits, whether that's moving between poetry and prose, whether that's moving between adult and young reader."
A year ago, book reviewer Rebecca Stoner said in response to Cottom's book Thick, "Like nearly 90 percent of book reviewers, I am a white woman. I can tell you that interrogating your own life in the light of Cottom's writings can be painful and challenging. As I was reading 'In the Name of Beauty,' an essay exploring how beauty standards are shaped by racism, sexism, and capitalism, I found myself asking how those standards—and the power relations they emerge from and perpetuate—have functioned in my relationships."
Through their stories, essays, and books — their blood, sweat, and tears — we are offered pieces of them. We reap the benefits of their hard work, and the fact that they've received such a fantastic award should be a guiding light for all women, but particularly Black women. These authors, and others, have been given a well-deserved spotlight showcasing their voices and talents — but, more importantly, the change to continue to educate those around us about the inequality and issues that plague us as a society.
We must commit to and continue to do the hard work of sharing our stories with the world, no matter how difficult it might be to share or hear; we cannot birth progress into the world without challenge. Thanks to the MacArthur Foundation for walking with us through these challenges and supporting the work of such exceptional Black women.
This article was originally published on