Black Women Now Hold The Top Titles In 4 Major World Pageants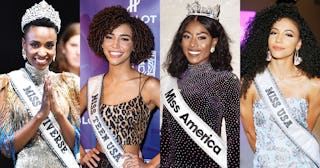 Paras Griffin/Jason Koerner/Steven Ferdman/Paul Morigi/Getty
Black women now have top titles in four major world pageants for the first time in history
Beauty pageants aren't exactly known for being progressive, as much as they're trying to change themselves to stay relevant in a time when parading women around in swimsuits to be judged by men isn't something we want to watch on TV anymore. But the times are changing. Swimsuit rounds in pageants are falling by the wayside. Women are using their pageant platforms to speak out about important issues in the world. Pageants are less and less about women's looks and more and more about how they can change the world.
And now, with South African contestant Zozibini Tunzi's win at the Miss Universe pageant over the weekend, we find ourselves at a historic moment for diversity in pageants. For the first time in history, the top titles for Miss Universe, Miss America, Miss USA, and Miss Teen USA are all held by black women.
Tunzi joined Miss America Nia Franklin, Miss USA Cheslie Kryst, and Miss Teen USA Kaliegh Garris when she became Miss Universe this week. Since her win (and in the years leading up to it), she's been absolutely outspoken about what a major milestone we're seeing right now for pageants and for black women all over the world.
"I grew up in a world where a woman who looks like me, with my kind of skin and my kind of hair, was never considered to be beautiful," she said. "I think that it is time that that stops today."
This isn't the first time black women have held any one of these titles. Vanessa Williams was the first black Miss America in 1984. Carole Gist was the first black Miss USA in 1990. The first black Miss Teen USA was Janel Bishop in 1991. And Miss Universe crowned a black woman before any American pageant did, when Janelle Commissiong was given the title in 1977.
But this is the first time we've ever seen all four of these positions held by black women at one time, and people are pretty happy about it.
After her Miss America win, Franklin told the New York Times, "It is important to little brown and black girls to see three strong figures, three strong women, African American women that are doing so much great work. People will argue that race doesn't matter. But race does matter in America, because of the history, because of slavery."
This is just more proof of how much representation matters — in media, in pageants, and beyond.