A White Student Called The Cops On A Black Student At Yale For Taking A Nap
by Thea Glassman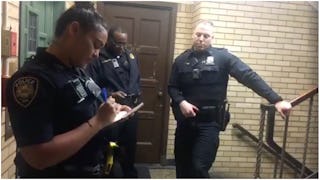 Image via Lolade Siyonbola/Facebook
A black student was taking a nap in her common room. A white student called the police on her
Lolade Siyonbola, a graduate student at Yale University, was taking a nap in her common room when a white student came in, told her that she wasn't allowed be there, and called the police. Siyonbola was then forced to prove to campus cops that she was indeed a student at the institution. The encounter was captured on video, and the whole thing is pretty sickening.
Siyonbola was studying in her dorm's common space when she dozed off. She woke up in the middle of the night to a voice that said, per The New York Times, "Is there someone in here? Is there someone sleeping in here? You're not supposed to be here." The woman called the campus police — and that's when Siyonbola started live streaming. She filmed her accuser, who also lives in the building, and captured her exchange with the campus police officers.
Siyonbola was asked to show her ID to the officers because, one explained, they needed to make sure that she "belong[ed]" there. Another added: "I don't know anybody from anybody, so I'm here just to make sure you're supposed to be here, make sure she's supposed to be here, and we'll get out of your hair."
The graduate student opened her dorm room with her key to prove that she lived in the residence, but was reluctant to hand over her ID. When she did, the officers phoned in her information to make sure that she was, in fact, a student. "I deserve to be here. I pay tuition like everybody else," Siyonbola said to the officers. "I'm not going to justify my existence here."
Her video footage has since been viewed more than 900,000 times and pulled in thousands of comments. Many people pointed to clear racial profiling on the part of the accuser, and criticized the police officers for how they handled the situation."Why didn't they go to the caller and ask for her id?" one commenter wrote. Another added: "If her ID has current address on it, no need to run it. Now he's on a fishing expedition…"
So, how is Yale responding to all this? Well, Graduate School of Arts and Sciences Dean Lynn Cooley sent an email to students saying that the incident is a reminder that everyone needs to continue to work towards making Yale "a truly inclusive place."
"I am committed to redoubling our efforts to build a supportive community in which all graduate students are empowered in their intellectual pursuits and professional goals within a welcoming environment," Cooley said. "An essential part of that effort must be a commitment to mutual respect and an open dialog."
Siyonbola told The New York Times that she wasn't satisfied with her school's response. "It wasn't compassionate. It was very high-level — like we have to do better someday, somehow," she said. "This is what happens every day in America. These things are unfortunate, they're disappointing, they're disheartening, but they're not shocking anymore."
Time and time again, these gross incidences of microaggression keep popping up and it means people of color can't feel safe pretty much anywhere. Last April, two black men were arrested at a Starbucks because — according to a bystander — they hadn't ordered anything. In May, a white woman reported three black women staying at an Airbnb rental because she assumed they were burglars. "The trauma is real," Kelly Fyffe-Marshall, one of the women wrongly accused of burglary, later wrote in a Facebook post. "I've been angry, frustrated and sad. I was later detained at the airport. This is insanity."
These moments of racial profiling are happening everywhere, and apparently repeatedly happening at Yale. Siyonbola told the Yale Daily News that the very same woman who called the cops on her also allegedly harassed another black student and "physically blocked" him from entering her common room. The woman reportedly told him that he "didn't belong here" and he was making her feel "uncomfortable."
Wow. Just…wow. For starters, it sounds like Yale needs to figure out a clearcut solution to dealing with this very serious issue of racial profiling so that students can feel safe and free from discrimination. Or, at the very least, deal with this woman who keeps harassing her peers.
This article was originally published on