This Harry Potter Activewear Might Actually Get You To Hit The Gym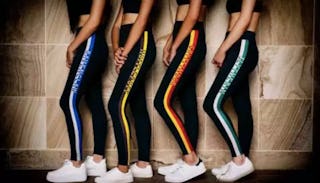 Image via BlackMilk
BlackMilk's new Harry Potter activewear line lets you rep your favorite house in comfort
BlackMilk's already brought us some seriously awesome Harry Potter-inspired clothing. But sometimes you want to wear something that shows off your love of the best book series ever written that's also comfortable enough to wear to yoga class or while you're chasing the kids around the playground. Lucky for us (or thanks to the person who used Felix Felicis and asked for this) the company just dropped the lookbook for their newest collection — Team Hogwarts. It's got tanks, leggings, dresses and sweatshirts that are perfect for hardcore workouts or just hanging around the common room.
Show everyone what house just beat them to center of the maze with this racerback tank ($54).
Anything this comfortable that can function as pants is obvious magic.
But these ones ($92) have pockets — further proof that life is better when you're a witch.
Hermione was clearly behind this genius tank dress ($69) that you can wear with either side in the front for two completely different looks.
In the words of Ron, it's bloody brilliant.
There's also a cozy sweatshirt ($92) great for tossing on after a kickboxing class or identifying fellow Potterheads/potential mom friends in the school pick up line.
The entire collection is available in all four houses. You and your crew can decide to wear the house you feel like you'd be an alumni of if only your Hogwarts letter didn't somehow get lost all those years ago (I'd be a Ravenclaw, I just know it).
Or put your RBF to good use and deck yourselves out as Slytherins.
The collection goes on sale 4pm EST on December 18, so you've got a little time to get your wands and wallets ready. BlackMilk only created a limited amount of each item, but you can sign up to be notified when the line is available for purchase so you don't miss out.
If you just can't wait that long to score some magical workout gear, you can always cast the Prime spell and have something in time for class next week.
This Quidditch tanktop ($18) looks legit enough that people might think it's a real sport.
These run leggings ($39) are so cute they almost make me want to train for a 5K. Almost.
This shirt ($29-33) is accurate AF.
Now that we've got sweet gear to sweat in, let the training for the Triwizard Tournament begin.
This article was originally published on