Blake Lively And Ryan Reynolds' Babies Just Made Their First Red Carpet Appearance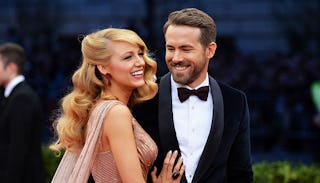 Image via Getty Images
Blake Lively and Ryan Reynolds' babies are as adorable as you think they are
Ryan Reynolds and family stepped out to celebrate his new star on the Hollywood Walk of Fame. It's a monumental occasion, so the kids came out, too.
It's the first time the couple has been photographed with their children in public, and may we be the first to say OMGGGG these babies are gorgeous. Their daughter James turns two this month, and the couple has yet to announce the name of their two-month-old daughter.
"You are the best thing that has ever happened to me. You make everything better. You make everything in my life better," E! reports Reynolds said in his speech. "You've given me two of the most incredible children I've ever hoped to have."
Awww.