Blake Lively Opens Up About Being Bullied As A Child In Heartfelt Post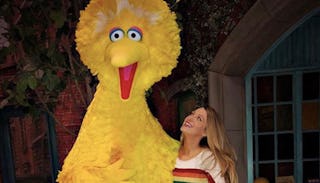 Image via Instagram/Blake Lively
Lively was called 'Big Bird' and bullied because of her height when she was a kid
It's hard to look at Blake Lively and not see near-perfection. She's drop-dead gorgeous and most of us (ahem, me) would give an arm to have her height and those luscious, long locks of hers. But in a recent Instagram post, Lively opens up about how those two things were at the root of bullying she endured as a child.
In a photo featuring everyone's favorite feathered friend, Big Bird, Lively opens up about how kids used to make fun of her.
"Kids used to make fun of me in elementary school by calling me Big Bird (because I was 'too tall' and had 'yellow' hair). Here's to making best buddies with the things that once hurt you."
If you think this seems implausible, I assure you it's not — I distinctly remember going to elementary school with a girl who was also very tall with blonde hair and she had to endure the "Big Bird" moniker until she graduated high school. Seems like the "Big Bird" thing is, decidedly, very much A Thing. Honestly, it's as shitty as it is lazy and uncreative, but whatever. Kids, huh? Oy.
Lively has been getting candid on social media more often lately, and we're so here for it. Recently, she shared her struggle to lose weight after giving birth to her second daughter with husband Ryan Reynolds.
Anytime a celebrity mom wishes to get real about things we can all relate to, it's a good thing. We sometimes forget they're real humans with real experiences and not perfect-looking bots with perfect lives.
Lively's message about bullying is a good one — as adults, we understand the damage bullying can cause but we also understand there's a light at the end of the tunnel because many of us have come out on the other side. Kids who are living in it right now can't see that light, but seeing stories like Lively's provide a way for parents to say, "Hey, here's someone who gets it and came out on the other side."
When I was in fourth grade, I got one of those short bob haircuts where the stylist shaved the back of my neck. I thought I looked DAMN GOOD. It was chic AF, but nine-year-olds don't get chic. What they did get, back in 1994, was that Eddie Furlong in Terminator 2 had a similar haircut, and I was dubbed "T2" for the remainder of the year.
While I admittedly endured far harsher bullying in my later years, I will absolutely never cut my hair that short again ever in my godforsaken life.