Blake Lively Accuses Fan Account Of Exploiting Her Kids By Posting Pics
by Madison Vanderberg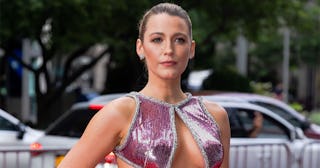 Gotham/GC Images/Getty
Blake Lively goes full scorched Earth to protect her kids from paparazzi harassment
Blake Lively and husband Ryan Reynolds are parents to three daughters — 6-year-old James, 5-year-old Inez, and 2-year-old Betty — and they are fiercely private about their kids' lives. They may have signed up to be famous actors, but they didn't sign up to have their kids stalked and photographed by grown-ass men masquerading (aka the "paparazzi"), and so Lively went OFF on an Instagram account after they shared pap images of Lively's kids.
The account that shared the photo is called "Hollywood Star Kids" and focuses exclusively on posting paparazzi photos of celebrity children, which is already a "yikes," from the jump. The account reposts paparazzi images they find online, so Lively slid into the comments section to let the person who runs the account know that the men who take the photos "stalk and harass my children" and to post those photos is to be complicit in the paparazzi rackett.
"This is so disturbing," Lively wrote in a comment on the photo of her children (which has since been deleted). "I've personally shared with you that these men stalk and harass my children. And you are still posting. You said you would stop. You personally promised me."
It seems like this isn't the first time that the Instagram account has shared photos of Lively's kids and the actress went OFF (as she damn well should).
"This is not casual appreciation," Lively continued in her comment. "This is YOU also exploiting very young children. Please. Delete. Please. Some parents are OK with this. We. Are. NOT."
Lively and her husband Ryan Reynolds don't even share photos of their kids on their own social media.
Over the summer, Lively roasted The Daily Mail for publishing a photo of her pushing the kids in a stroller and another of her smiling and waving to the camera as if she's saying she's fine with being photographed. She was not. "You edit together these images to look like I'm happily waving, but that is deceitful."
Lively continued, "My children were being stalked by men all day. Jumping out. And then hiding. A stranger on the street got into words with them because it was so upsetting for her to see. When I tried to calmly approach the photographer you hired to take these pictures in order to speak to him, he would run away — and jump out again at the next block."
"Do you do background checks on the photographs you pay to stalk children?" the actress, who has gladly been photographed with her family at proper events with respectful photographers, continued. "Where is your morality here? I would like to know. Or do you simply not care about the safety of children?"
"At a minimum," Lively concluded, "listen to your followers. They too understand this is dark and upsetting that you pay people to stalk children. Please stop paying grown ass men to hide and hunt children. There are plenty of pictures you could've published without the kids. Please delete. C'mon. Get with the times."
Lively isn't the only celebrity to question the paparazzi's tactics.
Kristen Bell is a part of the "No Kids Policy" to leave kids out of public photos that are published online. And also over the summer, Gigi Hadid penned an open letter to the paparazzi, asking them not to publish photos of her and Zayn Malik's daughter, Khai. "For a child, I can imagine that close or dramatic paparazzi frenzies must be overwhelming and disorienting…it still is as an adult that understands and deals with it often," Hadid wrote in part.
Enough really is enough.
This article was originally published on