Take Blake Lively And Ryan Reynolds' Advice And Go To A CPR Class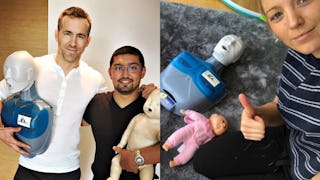 Image via Ryan Reynolds / Blake Lively / Instagram
Blake Lively and Ryan Reynolds are urging parents to learn potentially lifesaving skills
One of the most perfect pairs of celeb parents alive, Blake Lively and Ryan Reynolds, have an important message for parents everywhere: Take a CPR class. Seriously, it's good advice. You never know when those lifesaving skills will come in handy, but if you ever need them, you'll be glad to have them.
Lively and Reynolds, who are parents to daughters James, 2, and Ines, 8 months, posted photos to their social media after taking a CPR class that focused on infants and toddlers.
"ALL MAMAS AND DADDIES OUT THERE," Lively wrote alongside a photo of herself with some CPR dummies. "I can't recommend this enough, I took a CPR class with with a focus on babies and toddlers. Google 'infant CPR class near me' and you'll see lots of listings. For those of you who haven't done it, you will love it. It's so helpful by giving you knowledge, tools, and some peace of mind."
Reynolds posted a photo of himself holding one of the dummies, and wrote, "Years ago, I took a CPR course thru the Red Cross. And holy shit, I ended up saving my nephew's life because I knew what to do! True story! Yesterday I took a refresher course — focusing on infant and toddler CPR. It takes only a few hours and it's also kinda, sorta fun. Thank you to Dan from Viva First Aid for the lesson. And thank you to these two helpful yet lifeless dolls whose vacant ocular cavities will haunt me until end times."
The two photos have garnered well over a million combined likes.
In the comments, parents thanked the two stars for sharing this important message, including one mom who shared the heartbreaking story of losing her daughter.
"I had to do CPR on our two and a half-month-old daughter that had passed away, and I wish I knew how to do this before," the commenter wrote.
Lively replied, "I'm so sorry. Thank you for sharing," Lively replied directly to Hutchinson in the thread. "Thank you, because when you share your story, we can all lean on each other as mamas. We can also communicate and find ways to best protect each and all our babies together with what we've each experienced."
Like Lively and Reynolds pointed out, classes can be found on the American Heart Association's website, or by Googling nearby classes.