Blake Lively Pregnant With Number 3 - Surprises Everyone With Bump At Premiere
by Christina Marfice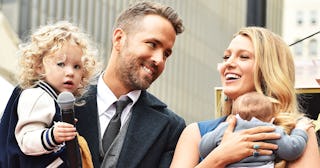 Axelle/Bauer-Griffin/Getty
Blake Lively was glowing on the red carpet when she debuted her surprise baby bump
You know Blake Lively and Ryan Reynolds, one of Hollywood's most beautiful, relatable couple of parents. They keep their personal lives pretty quiet, which is why it was the most delightful surprise when they stepped out on a red carpet together this week and debuted Blake's surprise baby bump. That's right, they're expecting their third baby, and they managed to keep the secret for months.
The pair was attending the New York City premiere of Pokémon: Detective Pikachu, and Blake hit the red (or yellow, in this case) carpet looking as stunning as always in a Pikachu-yellow Retrofête dress. But the minute she stepped onto the scene, eagle-eyed fans noticed something. She was glowing even more than she usually is.
Check out her look from another angle.
Also, just curious, who else can glide on super high heels while pregnant this effortlessly? She is stunning.
Yep, that is definitely a baby bump. An adorable, perfect baby bump that Blake and Ryan have clearly been keeping from the public for months. We know these two like to keep their private lives private, but that's just impressive.
The couple proceeded to do an entire red carpet event with fans, photographers and reporters kind of losing their minds over this surprise pregnancy reveal. But through it all, they looked absolutely blissful. They're obviously so happy about the news that their home is about to get a little livelier (get it?). Observe: Ryan Reynolds looking at Blake Lively with a loving gaze I typically reserve for things like pizza and puppies. Get you a love like these two have.
Even the official Pokémon: Detective Pikachu Twitter account got in on the fun of this super-surprise reveal, posting video of Blake posing for photos, with the hashtag, #PokeMom.
So cute.
In the age of social media, it's pretty shocking that such a high profile couple was able to keep a secret like this one for as long as they did. But fans of Blake and Ryan already know that they work hard to keep their family life private, and their two daughters, 4-year-old James and 2-year-old Inez, out of the public eye.
"My husband and I chose a profession and a side effect of that is your personal life is public," Blake told Marie Claire in a candid interview about being a celebrity mom in 2016. "Our child hasn't had the opportunity to choose whether or not she wants her personal life to be public or not. So in order to give her as much normality as possible, we want her to have a childhood like we had."
Because Blake and Ryan work so hard to keep their family out of the spotlight, we really cherish the moments when we get glimpses of the impossibly adorable family all together, like when they all made an appearance at Ryan's Walk of Fame induction in late 2016, soon after Inez was born.
So congratulations to Blake Lively and Ryan Reynolds, and here's hoping they'll let us get a glimpse of the new arrival sooner rather than later.