Amazing Cyber Deal on Blanket Scarves, AKA The Best Gift Ever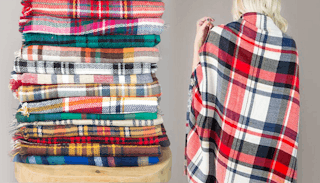 It's now socially acceptable to walk around in a blanket out in public. It's actually in style. Can we all rejoice for a minute?
Seriously, as sucky as 2016 has been, at least we have this. Praise the Lord.
In case you missed the memo, plaid is the pattern of the season – yes, folks, '90s grunge is back.
All of which to say, we are obsessing over these blanket scarves from Cents of Style.
Normally a deal at $24.95, this special pricing is insanity. Seriously, stock up before they're gone – you, your mom, your BFF, your neighbor, your kids' teacher, your always freezing co-worker… blanket scarves for everyone!
Use code SCARYDEAL at checkout for special pricing of $12.95 + free shipping. (Orders placed before 7PM EST on Friday, 12/16 will ship in time for Christmas.
Now pass the damn hot chocolate.
Editors may receive samples and/or a share from purchases made via links on this page.
This article was originally published on