Blind Cords Pose A Real Danger To Kids. Here's What You Should Know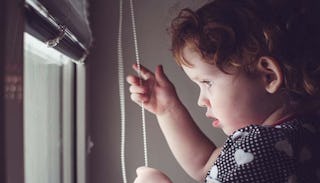 Blind cords might just be one of those things parents should freak out about
One of the hardest things about parenting is deciding what to totally freak out about. There seems to be an argument out there for why just about anything you put near your kids is unsafe, but there are certain "paranoias" we should actually take seriously.
Blind cords are one of them.
If you have small children, you may have been warned about the dangers of dangling cords. The cords pose a strangulation risk for small children — so much so, some retailers are actually starting to only sell blinds that aren't corded. In January, IKEA stopped selling blinds with cords . And one of the largest online retailers of custom window coverings, SelectBlinds.com, went completely cordless this year, too. SelectBlinds.com is no longer even offering the option of buying corded window coverings on their site. They also started a #GoCordless campaign to help spread the word on the dangers of cord blinds.
"It really was a safety issue," a representative from SelectBlinds.com tells Scary Mommy. "Over and over we were seeing children die in window covering accidents, and many of us, including the founder, are parents of small children. A couple of years ago, we started our free cord cleat initiative – where we gave away free cord cleats for tying up blind cords to anyone that needed them. But we felt it was not enough, because kids were still dying even when the cords were tied up."
Here's the issue with blind cords: when they are tied up, there is still a possibility that they can come loose, so the strangulation danger is still there. If they are cut super short, if the blinds are ever pulled up, the cords are still long enough to pose a hazard. The only real way to make corded blinds safe, is to cut off the blind cord at the headrail, rendering it useless for actually lifting the blinds. You would then just use the wand to open and close the slats to control light and privacy. That's still a better option than worrying about the danger cords pose to children.
Over 20 children a year in the U.S., on average, are strangled by a window covering cord. Fifteen seconds is all it takes for a child to lose consciousness. One minute can end a life.
Between 1986 and 2012 there were 184 deaths of children attributed to cord blind accidents. There were also 101 non-fatal accidents. To put that in perspective, there were 48 infant deaths from 1985 to 2012 attributed to the presence of crib bumpers, and you would be hard-pressed to find a parent that will go near one of those anymore. Basically, we need to be taking the dangers cord blinds pose to children seriously.
"Earlier this year, with the death of another child, the company founder, Rick Steele, and CEO, Al Silverberg, decided that enough was enough," a SelectBlinds.com representative tells Scary Mommy. "They could not wait for the industry standards to catch up or for lower manufacturing costs. They made the decision to make safety a priority over profit."
But what if you can't afford to outfit your house in new blinds? Not everyone has the wiggle room in their budget that allows for even the most basic renovations. Still, there are options.
You can order cord cleats online for free, to help keep cords out of reach of small children.
You can replace window coverings in select rooms of your home, instead of attempting to outfit the whole house.
You can purchase very inexpensive blinds made out of paper, that actually look really good, for places like your kid's room or nursery. The order comes with six per box so you can easily replace if they get too dusty or dirty.
You can keep furniture like cribs away from windows and completely out-of-reach of blinds.
Replacing blinds doesn't have to be a huge endeavor, or even as pricey as you may think. And as far as installation, you really just need to know how to operate a drill and use a measuring tape. I reached out to SelectBlinds.com so I could test out this super-easy theory myself — and yes, it was a breeze. Two screws and the blind was installed — and I did it myself. Yes, there are expensive options out there, but there are also very accessible ones.
The bottom line is: if you can't afford to replace them, consider removing the cords. If you can't modify your house because you are renting, follow the easy steps to get the free cord cleats. There are so many warnings out there that make parenthood feel overwhelming. But there are certain things we should be legitimately concerned about.
This article was originally published on