I Am Hooked On Netflix's 'Bling Empire,' And Here's Why
by Sa'iyda Shabazz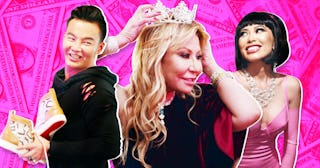 Julia Meslener for Scary Mommy, Netflix and Sharon McCutcheon/Unsplash
There is no shortage of trashy reality TV out there. And for good reason. For many of us, it's a fun way to escape, especially right now with … *gestures to everything.* While we mostly rely on Bravo and TLC for our reality TV fix, Netflix has been getting in on the game. First with dating shows like "Love is Blind," but then they took on Bravo with the show "Selling Sunset." Their latest reality show, "Bling Empire." And let me tell you, this one has everything you want (need?) in a reality show.
"Bling Empire" is like "Crazy Rich Asians" if it was real life. Except instead of taking place in Asia, it takes place in West Hollywood and Beverly Hills. This group of friends have way too much money and seemingly way too much free time. Many of them have jobs, but you never see them working. Instead, they spend their days shopping for a Ducati, staging lavish photoshoots for their infants, or having very expensive parties. Must be nice. And it is, because as we know, with all that money and time, there is nothing but drama. Below, meet the cast of your new favorite show:
Kevin: a male model and the unofficial main character of the show. After moving to LA for his career, he meets Kane, who brought him into the group. He is the viewer's guide through the group of friends, because as an outsider, he has a different, more grounded perspective. Much of his arc on "Bling Empire" is about wanting to connect to his Asian heritage. Kevin is an adoptee and grew up in Pittsburgh, PA. He talks about the struggle of being the only non-white person in his family and what it means for him to now have Asian friends. After doing a DNA test, he learns that he is mostly Korean, and goes on a quest to find his birth parents. His concern over his mother's reaction to him wanting to find out is precious (and I'm obsessed with his mom tbh.)
Kane: the unofficial ringleader of the group. He's the heir to a fortune, but the show does not make it clear if he works or does anything other than hang out with his friends and spend money. Kane is hilarious, endearing and has a really genuine heart. It's clear that he just wants to have a good time with his friends and goes out of his way to keep the group together. The way he supports Cherie after her mother's death is a great example of how much he loves his friends. Sometimes he does seem to instigate drama, but it's never malicious. It's clear that Kane really does care about Kevin, even if it sometimes comes off as annoyance. He's trying to educate Kevin on how to fit in, not only with the group, but the LA lifestyle in general.
Anna: the best person on the show, and I will fight you if you say otherwise. A true queen, Anna Shay has been rich for longer than most of the people on "Bling Empire" have been alive. Apparently she had faded from the social scene for a while, and the first time we see her, she's taking a sledgehammer to the structure of her closet while wearing a couture gown. She's a true bad bitch, and makes sure everyone knows it too. But she's also incredibly generous, treating Kelly to a birthday trip in Paris, and gifting Kevin with designer clothing. Anna doesn't take any shit though. As we see when she kicks Kim out of her house for inappropriate behavior and the way she handles Christine.
Kelly: a successful entrepreneur in her mid-30s and a producer for the show, Kelly was once married to a tech bro who ended up in prison. She is now in a relationship with Andrew Gray, who parents will recognize as the most boring Red Power Ranger ever. Their relationship is not great — turns out the Red Ranger has a volatile personality and has abuser written all over his face, down to the dead eyes. They go to couples' counseling, and even break up for a while, but (much to the disappointment of her friends) that doesn't last long. Kevin is desperately into her and she lets him take her out on a date, but she keeps going back to Andrew. As Anna says, "no dick is that good." Kelly, you deserve better, girl.
Christine: the wife of a plastic surgeon, Dr. Gabe. She is the mother of a "miracle" baby who leads a lavish lifestyle in his own right. Her husband wants another kid, and she is adamantly against it, citing the fertility issues they had to overcome to have Baby G. Personally, I think she doesn't want another kid to interrupt her lifestyle, which is fair. She is also clearly new money, and tries to enter a weird competition with Anna over which of them is richer or something? Over and over again, Anna makes it clear that she will always win, but Christine can't seem to stop herself.
Cherie: at the beginning of the show, she has a daughter, Jadore (insert eyeroll.) And she's pregnant with her second child. Her mother has recently passed away, and it's clear she's still grieving. Cherie is freaking out because her partner Jessey seemingly refuses to propose to her. Their second child Jevon is born and Cherie begins to think that he is the reincarnated spirit of her mother, because apparently, they made a deal as such.
Kim: a DJ and model whose mom directs her backyard photoshoots for Instagram and tells her to show more cleavage. She tries to become friends with Anna, but then completely violates Anna's trust. And what's worse is that she refuses to apologize or even agree that her behavior was grossly inappropriate. In the later episodes, she shares with Kevin that she wants to find her birth father. She hasn't seen him since her parents split when she was young. With the blessing of her mom and stepdad, she hires a private investigator to find him. Then when she becomes overwhelmed by it, Kevin and Kane step in to help her find closure. Her friendships within the group seem to be strictly platonic, though there is a tease in the season finale hinting at chemistry between her and Kevin.
"Bling Empire" is so ridiculously indulgent that it's perfect for a winter weekend binge watch. There are only eight episodes, and you'll be impatiently waiting for another season. If you love drama and excess – and really, what reality TV fan doesn't? — you definitely will not be disappointed.
"Bling Empire" is now streaming on Netflix.