Blue Ivy Bids $19K At Art Auction While Jay-Z Helplessly Looks On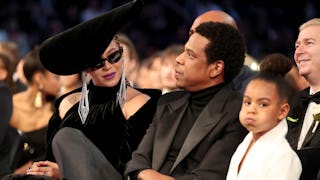 Image via Christopher Polk/Getty Images for NARAS
Blue Ivy bids $19,000 on art while Jay-Z tries to stop her
We already know it's Blue Ivy Carter's world and the rest of us are just living in it. After seeing her tell her parents to shush the heck up and stop clapping at the Grammys, it became apparent that this little one has no time for anyone's nonsense, least of all her famous mom and dad. Over the weekend, we got yet another delightful bit of evidence that Blue runs the household and Beyoncé and Jay-Z are just holding on for dear life when she accidentally almost bought a piece of artwork for a cool $19,000.
The Carter family (minus infant twins Rumi and Sir) came out Saturday night to grace the world with their presence for the 2nd Annual Wearable Art Gala in Los Angeles. According to Vanity Fair, Queen Bey was being presented with a humanitarian award by her mom, Tina Knowles Lawson, who was also hosting the event, but it was Blue Ivy's immaculate taste in art (and sly disobeying of her dad) that lit the internet on fire.
Yes, that is Blue raising her very own little paddle to bid $17,000 on an acyclic painting of Sidney Poitier during the evening's live auction, emceed by Star Jones. Even though her dad tried to thwart her efforts (and discerning artistic eye) she bid again for $19,000 before losing out to Tyler Perry, who won the piece for $20,000.
Seriously, we love this kid.
Look at that grin. That's the grin of a girl who knows exactly what she's doing and is nothing but proud. And Jay-Z is every dad on earth just trying to hold it down, for the love of God.
I imagine the conversation between Yonce and Jay on how to spend their Saturday night went something like this:
Beyoncé: Let's take Blue to the Wearable Art Gala
Jay-Z: Sure! What could possibly go wrong?
*later that night*
Blue Ivy: *giggles* *casually bids $19K on piece of art*
Jay-Z: shit
That feeling when your six-year-old kind of owned you in public:
This is like the famous people version of your kid somehow making $238 worth of in-app purchases because you were too dumb to figure out how to lock it down. OOPS Blue Ivy came thisclose to blowing $19,000 on a beautiful work of art. Not like they can't afford it, but still. It's definitely some parenting nonsense when your kids go out of their way to spend your money for you.
Even though Blue experienced a loss, she did eventually end up bidding on (and winning) a $10,000 piece by artist Samuel Levi Jones. She also spent the evening looking like this:
https://www.instagram.com/p/Bgc-k0wFTTq/?utm_source=ig_embed&utm_campaign=embed_ufi_control
A $10,000 piece of art and twinning with her superstar mom. I'd call that a grade-A Saturday night for a six-year-old.
This article was originally published on