Blue Ivy Makes Singing And Songwriting Debut On Beyoncé's New Album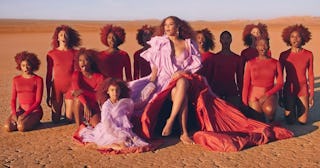 Beyoncé/Youtube
7-year-old Blue Ivy already has a songwriting credit and a feature on her mom's album and we are here for it
Let's just get one thing straight right here and now: Blue Ivy Carter is one day going to rule us all, and I, for one, will not fight it. The kid brings the fiercest energy everywhere she goes and already clearly runs the show in the Knowles-Carter household. And now, at just seven years old, she's proving she's every bit as talented as her mom, Beyoncé.
Bey just dropped her companion album to The Lion King, called The Gift, and I strongly recommend you find time today to listen to the entire thing, because it is so, so good. Blue makes a cameo in the beautifully-shot video for the amazing song "Spirit," too.
You can listen to the whole album on Spotify now, but if you only have time for one song, let it be "Brown Skin Girl," which features Blue singing the opening and closing verses with Nigerian artist WizKid.
Oh, and in addition to casually lending her vocals to a Beyoncé song at an age that many of us were still eating Elmer's Glue, Blue also apparently co-wrote the song. And the entire internet is here for it.
This should come as no surprise because of who her parents are, but this is our first official confirmation the Blue Ivy has some pipes. She nails her part in the song and leaves us wanting more. When is she getting a full-length album of her own? Can I just go ahead and pre-order that now?
All jokes aside, though, it's amazing that Bey already has Blue exploring artistic pursuits like this, and especially on a track like "Brown Skin Girl," which is a downright jubilant celebration. During a time when race seems to be dividing our country more and more every day, this is the kind of content we need. Celebrate the fact that all people — of all colors — are beautiful and worthy of being celebrated.
That's kind of the theme of Bey's new album. She produced the entire thing, and carefully chose some of the best (though little known) producers and artists from Africa to collaborate with. The album particularly shines a light on the Nigerian music industry, which is packed with incredible talent that we just don't get to hear in the U.S.
"It was important that the music was not only performed by the most interesting and talented artists but also produced by the best African producers. Authenticity and heart were important to me," Beyoncé said in a release when the album was announced.
If you ask us, she nailed it. And having our first taste of Blue Ivy as an artist only makes this album more instantly iconic.