Beyonce Shares Gorgeous Behind The Scenes Super Bowl Photos Of Blue Ivy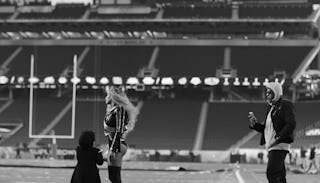 After her amazing Super Bowl performance, Beyonce shared some incredible behind the scenes photos featuring her daughter, Blue Ivy.
If you watched the Super Bowl last night, then you already know Beyonce killed it. She upstaged Coldplay, raised the bar for Super Bowl halftime shows, and then announced her world tour on top of it all. What you might not have noticed was her four-year-old daughter, Blue Ivy, there cheering her on the entire time.
Blue was at the game hanging out with Chris Martin's and Gwyneth Paltrow's daughter, Apple. Before the big game even started, Paltrow shared an Instagram photo of the two girls walking hand in hand, rocking their "Super Bowl jackets" as they waited for their parents to take the stage.
After the halftime show performance, Beyonce surprised fans by dropping 30 exclusive rehearsal and performance shots on her Tumblr and Instagram. Included in the shots were two photos of Blue Ivy watching her mom get ready for the big show, and they are truly adorable.
First, there's Blue and Jay-Z hanging out with Beyonce while she practices her choreography on the field. Blue is decked out in a long coat and standing next to her mom as her dad snaps photos of them on his phone — you know, just your typical family photo full of iconic superstars.
Then there's this one where Blue is watching in awe as her mom takes the field with a microphone. In it, Blue looks like maybe she's about to run out and take center stage herself, which wouldn't surprise us at all, considering how talented her parents are.
Blue doesn't spend as much time in the public eye as other celebrity kids, but she's been in the headlines more than usual this week after a cameo in the video for Beyonce's powerful new song, "Formation." The song and video are striking political commentaries on race, wealth, power, and police brutality. In the video, Blue appears in a few frames, dancing and running around with other little girls in a white veil and dress.
It's amazing to see Blue witness and participate in all of these powerful, historic moments in her mom's career. Beyonce is an icon. She's smart, talented, savvy, and driven. She's a role model to women all over the world, but she's an even bigger role model to her daughter, and she seems to take that very seriously. She doesn't shy away from showing Blue what a successful woman looks like, but she also brings her daughter into the fold and includes her in what's going on.
Blue gets the incredible opportunity to see all sides of her mom: business woman, artist, icon, and member of the family. It's a well-round portrait of womanhood that we should all strive to give to our kids — even if they'll never see us performing at a Super Bowl halftime show in front of millions of adoring fans. We've all got our own version of success, and it's good for our kids to see that and be a part of it. They take pride in it just like we do. As much as we all love and admire Beyonce, it's pretty clear that Blue is truly her number one fan.
This article was originally published on