Blue Ivy Shushed Her Parents At The Grammys And The Internet Can't Take It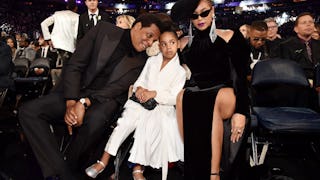 Image via Kevin Mazur/Getty Images for NARAS
Blue Ivy told the Queen Bey to stop clapping and Twitter is here for it
Last night, America's version of the royal family came out (save for their two youngest members) to take in the Grammy Awards. Beyoncé, Jay-Z, and their six-year-old daughter Blue Ivy held court in the front row, which meant cameras were on them the entire time.
And thank God, because they caught one of the most iconic moments of 2018 so far — Blue Ivy Carter telling her parents to chill out.
All this time, we thought Beyoncé was the Queen Bey — but as it turns out, Blue Ivy runs things in the Carter household. She let the whole world know who's in charge by literally shushing her parents mid-applause after Camila Cabello's powerful speech introducing U2 before their performance.
This is absolutely too much. This child, the youngest Grammys attendee, just won the internet by telling Beyoncé Giselle Knowles-Carter herself to calm the hell down. We cannot.
Cabello's speech focused on the importance of the Deferred Action for Childhood Arrivals (DACA) program, and Blue was clearly feeling the gravity of her words when she told her parents to stop being so freaking extra.
To us, this is the Queen Bey. To Blue Ivy, she's just her embarrassing mom who's clapping while everyone else has stopped clapping and Blue was having exactly none of that shit. To top it off, after quietly scolding her mother to have some chill, she then turned to her dad to make sure he wasn't going overboard with the claps either.
We just love this kid. We also love her all-white outfit that appears miraculously clean considering she's only six, but then again, she's Blue Ivy. She tells Beyoncé what's what. Keeping herself free of stains is child's play.
Of course, the internet can't take it either and Twitter is currently abuzz over Blue's amazing moment.
Because she's the princess.
Exactly. Blue was like "You guys are HERE and I need you to be more like here." The best part? They listened.
It also led to some speculation about what a tight ship Blue must run as big sister (twins Rumi and Sir were born last summer).
Viewers might not have understand what the kiddo was up to, but they were still very into it.
No. No we don't.
This small moment is all we needed to see to understand that this kid is a trip in the best possible way. But what else did we expect from the first child of the first family of music? She's going to do big things one day, and last night feels like the beginning.
Basically, this:
This article was originally published on