Classic CorningWare Is Back To Make Your Childhood Cooking Dreams Come True
by Cassandra Stone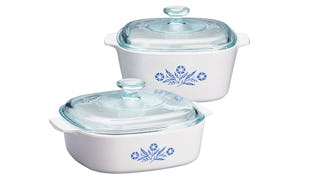 Image via Corelle.com
This CorningWare isn't your mama's bakeware anymore
Get ready to bake like it's 1989 all over again — because the classic, adorable blue and white CorningWare is back. There's not a single one of us who didn't have a bunch of these dishes in our houses growing up, and now that we're grownups we can buy our own set.
Whether it was the neighborhood potluck or a regular family dinner, these beauties graced all of our mealtime tables.
And now to celebrate their 60th anniversary, CorningWare has made this nostalgic edition available for purchase at Bed, Bath, & Beyond.
Here's a little background on everyone's favorite bakeware. First marketed in 1958, CorningWare was an immediate hit with hostesses and mothers all over the country because these casserole dishes and bowls were made to be extremely durable. It was the first bakeware of its kind that could go right from the fridge to the oven without shattering. Huzzah! This meant fewer dishes, less work, and cute presentation.
Lately, this particular pattern has only been available at yard sales and on eBay, having been replaced by the simple, sleek white edition opened at bridal showers on the reg.
The baking dishes come in both 1.5 and 2.5 qt, and both are under $20. You can get all three baking dishes in this pattern for $49.99.
While the casserole dishes are probably the most iconic pieces of this collection (yes, that's right, I am "uses 'iconic' as a word to describe bakeware" years old), the 60th anniversary collection features a variety of dishes, ramekins, meal mugs, plates, and a serving platter.
The three bowl mixing set is adorable, functional, and less than $30.
You can serve fruit kabobs or shrimp cocktail for your family or guests in these babies — a "meal mug" that's just $9.99.
Because while you may think of this as your mom's bakeware, it ain't your mama's bakeware anymore. Casseroles are great, but the options for this classic cookware are endless.
Did somebody say nachos? BRB, putting literally all of these items into my online shopping cart.
The collection is also available for purchase on Corelle.com, where you can also buy a matching knife set fr $13.19.
Or an entire 16 piece dinnerware set featuring the cornflower blue pattern for just $33.59.
The price points just further enhance our love for all things CorningWare, because while some other fancy cookware is adorable AF but pricey (ahem, Le Creuset, I'm looking at you), these prices are more affordable. Individual casserole dishes are all under $50, while plates and bowls are all under $10 each.
It's a small price to pay for a pretty piece of nostalgia, right?
This article was originally published on