'Blue's Clues' Debuts New Alphabet Song Where 'P' Stands For 'Pride'
by Kristine Cannon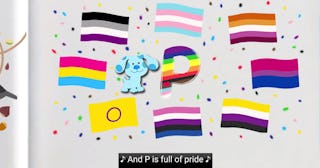 Blue's Clues & You!/YouTube
We couldn't be more obsessed with this new alphabet song
Thanks to a recent clip from Blue's Clues, we have the alphabet song stuck in our head — but not that boring, age-old alphabet song we all learned in elementary. Nah, we have Blue's Clues' recently debuted, totally revamped — and totally adorable — version where "P" stands for "pride."
Now making its rounds on Twitter, Blue's Clues' alphabet song is more than just another kids' song to add to the rotation. Blue's Clues' alphabet song embraces diversity — and supports LGBTQ+ rights — with one magical line: "And P is full of pride."
"Blue wants to sing a song with you!" the "ABC Song with Blue" clip opens. "Get ready and get set!"
"To sing a song about all 26 letters of the alphabet!" the video continues in what might just be the catchiest version of an alphabet song we've heard since, well, the OG alphabet song.
One by one, the letters are revealed, each one representing positive attributes, like "A" for "amazing," "B" for "brave," and "F" for "fun."
But it isn't until you get to "P" that you're really hit with all the feels.
"'M' is so magical. 'N' is a nice neighbor nearby. 'O' is outstanding, one of a kind. And 'P' is full of pride!" they exclaim.
It's a moment that garnered plenty of praise and applause since it aired — and went viral on Twitter thanks to one rightfully ecstatic user.
"Blue's Clues was such an important part of my childhood. I had a real life thinking chair. I had all the toys. I watched it every day for hours. I still have a little stuffed magenta on my bed, to this day at age 25. This means so much to me, I immediately burst into tears," wrote another user.
And the Tweets kept on comin'.
Blue's Clues isn't the only popular kids' show showing support for the LGBTQ+ community.
Just before Nickelodeon rebooted Blue's Clues in November 2019, Arthur opened its season with a same-sex wedding.
In the episode titled "Mr. Ratburn and the Special Someone," which aired in May 2019, Arthur's third-grade teacher Mr. Ratburn tied the knot with Patrick, a local chocolatier, at a wedding attended by the students.
"PBS Kids programs are designed to reflect the diversity of communities across the nation," Maria Vera Whelan, the senior director of marketing, communications and social media for children's media and education at PBS, said in a statement at the time. "We believe it is important to represent the wide array of adults in the lives of children who look to PBS Kids every day."
"Mr. Ratburn is married," Arthur said in the episode. "I still can't believe it."
"Yup, it's a brand-new world," Francine responded.
Indeed, it is — and we are so here for it.