'Blue's Clues' Is Getting A Reboot And Our '90s Hearts Are Singing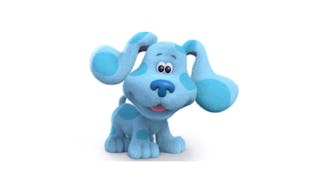 Image via Nickelodeon
Blue's Clues is back, baby — and we are here for all of it
Blue's Clues is making a comeback. I repeat, Blue's Clues is coming back to TV and '90s kids who now have kids are acting like it's the second coming of New Kids on the Block (I am clearly an eighties kid). This week, Nickelodeon announced the popular series will be back for at least 20 new episodes causing all kinds of jumping and squealing from kids and parents, alike.
The animated classic that featured a live TV host was an instant hit among viewers. For those unfamiliar, the show's main character, Blue, leaves treasures or "clues" for kids throughout the episode which will eventually lead to a mystery being solved.
It was like Murder She Wrote but with a much more awkward version of Angela Lansbury as the host. But we'll get back to him in a minute.
The show was beloved by parents and kids alike for its fun escapades, easy-to-follow story line, and educational programming. My youngest absolutely loved watching this show and I must admit, it was one I didn't cringe at every time it came on. What's even more fun is Nickelodeon is currently searching for the next man or woman to host the show and help Blue bring a sense of adventure to kids of this generation by hosting an open casting call on April 14th in Southern California.
"With Blue's Clues, Nickelodeon launched what became TV's first generation of interactivity for preschoolers and set the bar for quality, curriculum-driven shows we have made since," said Cyma Zarghami, President, Nickelodeon Group. "The new, modern version of Blue's Clues will capture all the original's creativity and visual identity for a whole new audience ready for its fun adventures and expertly designed problem-solving curriculum."
Once the host is selected, filming will begin this summer with an all new production and animation team and possibly a 2018 facelift. A big part of every original episode was when Blue and the host received mail from their friends, after all. And who gets mail nowadays? I'm thinking now it may be, "Look, kids. We got a dope tweet and it's totally trending right now."
I would be remiss if I didn't revisit the original host, Steve Burns — just for a smidge. Please, oh for the love, pulease can we not let the host of this reboot dance around in khaki chinos that are two sizes too big?
It's a look, for sure. But maybe we can upgrade this time around.
If remakes aren't your jam, the original Blue's Clues is currently available on NOGGIN. However you watch it, the adorable Blue and her adventures are definitely worth tuning in.
This article was originally published on