'Blue's Clues' Pride Sing-Along Stars The Cutest Cartoon Drag Queen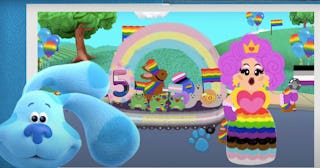 Nickelodeon
'Blue's Clues' is getting ready for Pride Month with an adorable new sing-along
LGBTQ-inclusive kids' shows are starting to pop up in preparation for Pride Month in June, and Blue's Clues is getting in on the action with an adorable song and video featuring a carton version of Drag Race star, Nina West.
"It's the Blue's Clue's And You Pride Parade and we need you to sing-along as the 'Families Go Marching' proudly!"' broadcaster Nick Jr. said. This, paired with the new "Be Proud" song from Dreamworks Animation's Madagascar: A Little Wild, is the kind of celebration we need.
The video and sing-along features all kinds of queer families and is sung by none other than drag queen and activist Nina West.
The Blue's Clues sing-along video showcases families with two moms, two dads, ace, pans, trans, non-binary, and bi parents as they make their way through the parade route, flags flying proudly.
According to Mombian.com, Lindz Amer, who produces the video series Queer Kid Stuff consulted on the Blue's Clues video. It's a fun and inclusive way to show kids that families come in many forms. Being proud of who you are and showing love to your family and friends is all that matters.
Blue's Clues also has a special "Celebrating Pride Month With Blue & Josh! Opening Mail" video, one of the most famous parts of the series. In it, the show features kids talking about Pride, equality, and what the LGBTQ people in their lives mean to them. One little girl also shows the different Pride flags and explains what each of them means.
The parade continues one by one, two by two, eight by eight, all through the town. It's colorful, full of joy, and West belts out the "Families Go Marching" tune effortlessly. It's a celebration of family and helps educate young kids about how people choose to live and that they should be proud of who they are and where they come from.
The video also features an "allies of the queer community" float to show kids how we can love our LGBTQ+ friends and family and show up to support them whenever we can. Pride Month is a perfect time to do this but that support needs to be there all the time to remind everyone around us that inclusion and acceptance is the way to go.
"Love is love is love you see, and everyone should love proudly," West sings as the parade wraps up. All the families are singing and dancing together as West says, "Happy Pride month!" What a perfect representation of love to show kids who may be watching.