Hockey Player Tells Dad He Made The Olympic Team And The Internet's In Tears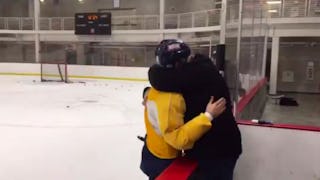 Image via Twitter
Video captures Bobby Butler telling his dad he made the Olympic team
For the first time since 1998, the National Hockey League won't be sending any of its players to the winter Olympics. That's been disappointing for a lot of hockey fans, but it also means that undrafted players like 30-year-old Bobby Butler, who plays for the Milwaukee Admirals (part of what is essentially the minor leagues of hockey), get the chance to play for their country on the world stage. The Admirals caught Butler telling his dad the big news, and the video is beyond sweet.
Butler found out just yesterday that he's going to compete for the United States in the 2018 Olympics in Pyeongchang, South Korea. During practice, he got to surprise his father with the news.
You can see the moment when his dad pauses because he's not sure that he heard what he heard. When he realizes his son is going to the Olympics, he gives him a huge hug while Butler's teammates cheer.
Butler has been playing professional hockey since 2010, when he signed with the Ottawa Senators. He spent the next five years bouncing back and forth between four different major league teams and four minor league teams. In 2015 he moved to Europe and played with teams there for two years before coming back to the U.S. this season to play with the Milwaukee Admirals. This is a guy who wouldn't have had a chance to play in this year's Olympics, but when the NHL decided not to send its players, that freed up those spots for minor league and college players, as well as Americans playing for international teams. That's how Butler got selected, and a dream that would've been out of reach came true for him and the father who has supported him along the way.
Twitter had some feels about it:
We're not new to the power that watching the parents of Olympians celebrate with their kids has over us. Remember those P&G "Thank you, Mom" commercials that make us cry hot, salty tears every two years? The 2018 version is here, and you're going to want to take a seat, grab some tissues, and find something to bite down on, because this one's gonna hurt:
See?
On the lighter side, who can forget the video of gymnast Aly Raisman's parents watching her compete in the 2016 summer Olympics?
Olympians sacrifice an enormous amount to get to where they are, but the parents who help them get there do, too. It's a huge moment for the whole family when an athlete makes the team, and Butler sharing it with his dad is pretty much the best.
Congratulations to all the Olympians and their parents — we can't wait to cheer for you in February!
This article was originally published on